On Monday, Jan 13th, at a press conference in Baltimore, Maryland's U.S. senators, Ben Cardin and Chris Van Hollen, and U.S. Rep. John Sarbanes, joined together with state and local elected officials and faith leaders from the Jewish, Christian and Muslim communities, to announce their support for a proposal calling for the quadrupling of funds provided by the Department of Homeland Security for its Nonprofit Security Grant Program (NSGP) in fiscal year 2021.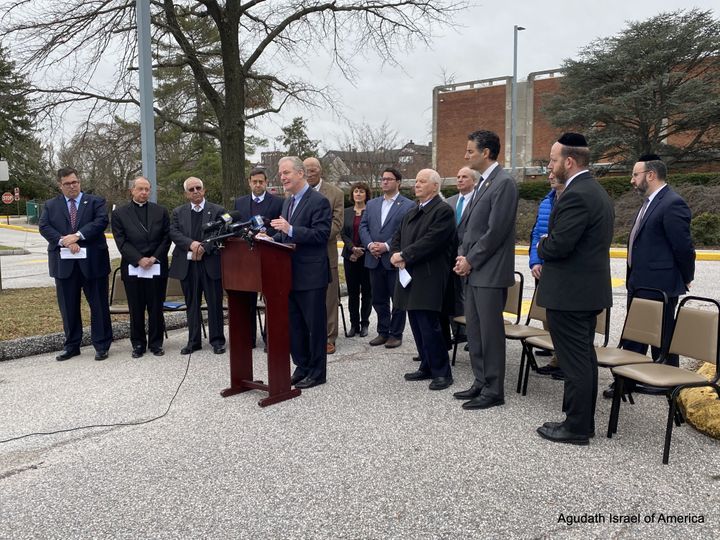 Rabbi Ariel Sadwin (on right) stands with elected officials and faith leaders as Senator Chris Van Hollen presents the proposed increase in security funding
Established in 2002 to address threats to religious institutions, the NSGP funding has steadily grown in recent years with the startling increase of attacks to faith entities and their houses of worship. In 2020, the program will be funded at $90 million, an increase of 50% from the previous year. For 2021, however, the proposal discussed at yesterday's press conference, would raise the funds to $360 million.
Many of those who spoke at the press conference stressed the unfortunate reality that funds for a program like this are even necessary in the United States, and that tolerance of all people regardless of their differences is one of the most important fundamentals we all share.
Rabbi Ariel Sadwin, executive director of Agudath Israel of Maryland, commented, "while we are very concerned with the uptick in anti-Semitic attacks, we are heartened by the measures taken by our congressional leaders to provide the additional funds needed to address these concerns in this manner."
Agudath Israel's Washington Office, under the direction of Rabbi Abba Cohen, has long championed the issue of security assistance for nonprofits, and, along with its coalition partners, were among the leading advocates successfully calling for the creation of NSGP grants. Every year since, the organization has sought to strengthen the program, and assist community institutions in accessing the available benefits.