Baltimore, MD – November 6, 2018 – Please join us in welcoming the Bostoner Rebbe, shlit"a, to Baltimore this week. Rabbi Mayer Horowitz, shlit"a, is the son of the Bostoner Rebbe, Grand Rabbi Levy Y. Horowitz, zt"l. The Rebbe will be visiting from this Wednesday, November 7th through Monday, November 12th. Rav Horowitz, shlit"a, is:
The Rav of Kollel Boston in Yerushalayim

The Executive Rabbi of Congregation Givat Pinchas (The Boston Shul) in Yerushalayim

The founder and president of Talmud Torah Boston in Bnei Brak

A board member of Rabbis of Chinuch Atzmei

The founder of Machon HaNesher HaGadol, whose goal is to publish the Rambam's Mishnah Torah with analysis and sources

A member of the Moetzes Agudas Yisroel
The Rebbe has connected to our community in the past with the warmth and sensitivity that are the trademarks of Bostoner chassidim. The Rebbe visited our shuls and schools and shared words of Torah and wisdom. When visiting schools, the Rebbe shares different messages with each age group, sings songs with younger students, and gives brachos to the children. The Rebbe will be visiting many of our local schools. Additionally, the Rebbe will be available to meet with people individually for appointments. The Rebbe speaks in English, Hebrew, and Yiddish. The Rebbe will be staying at the Storch home at 3209 Fallstaff Rd.
There will be several opportunities to see the Rebbe at shul during his stay in Baltimore.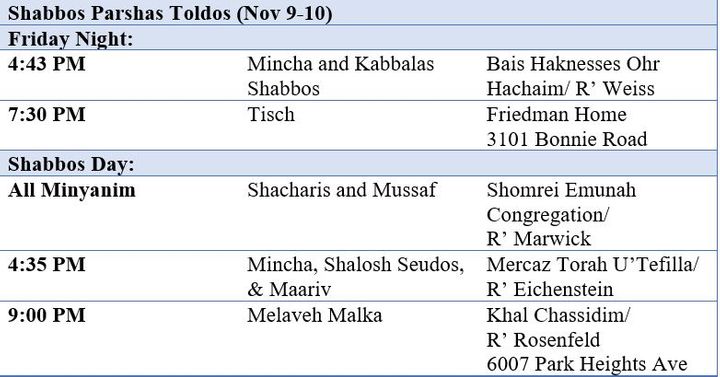 Please email the Rebbe's secretary at bostonrebbe@gmail.com to make a personal appointment for Wednesday evening, Thursday afternoon and evening, Friday afternoon, and Sunday evening.