Baltimore, MD – Feb. 7, 2018 - On February 4, 2018, the Jewish Museum of Maryland (JMM) opened Beyond Duty: Diplomats Recognized as Righteous Among the Nations, a traveling exhibit developed by Yad Vashem, the World Holocaust Remembrance Center in Jerusalem. The exhibit, which runs through March 25, honors the diplomats around the world who saved the lives of Jews from Nazi extermination.
Throughout the 28 panels, the personal stories of nine diplomats who were recognized as "Righteous Among the Nations" by the State of Israel are shared. These diplomats, who hailed from countries across the globe, operated a range of rescue operations during the Holocaust. Their stories are interspersed chronologically into the historical narrative of World War II.
"Beyond Duty pays tribute to the 34 diplomats recognized as Righteous among who upheld the decency of human values, showing incredible bravery at the risk of their careers, their lives and their family's safety," said Marvin Pinkert, executive director the JMM. "It's important that we learn from those whose integrity guided them to do what is right for humanity."
Following this premier, Beyond Duty will be on display at the U.S. Capital in Washington, D.C. on April 9 for the Israeli Holocaust Remembrance Day.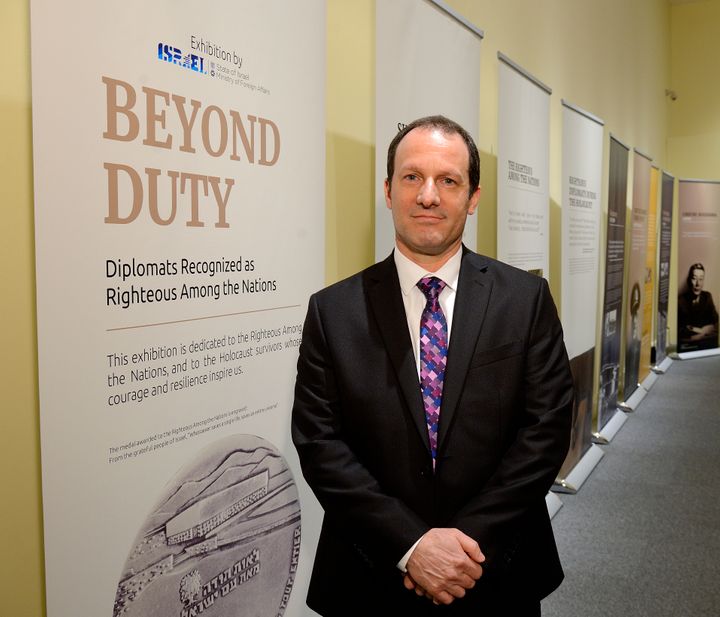 Reuven Azar, Deputy Head of Mission at The Embassy of Israel
Between 1933 and 1941, Nazi Germany pursued a policy that dispossessed the Jews of their rights and property. This policy gained broad support in Germany and much of occupied Europe. In 1941, following the invasion of the Soviet Union, the Nazi and their collaborators launched the systematic extermination of the Jews. By the end of 1941, the policy had developed into an overall comprehensive, systematic murder operation that the Nazis called "The Final Solution to the Jewish Question."
While many countries of the free world were reluctant to help the Jewish refugees, a small number of diplomats took extraordinary measures to act against their government's policies to help those who faced annihilation by the Nazi regime. When faced with the plight of the Jews, they decided that although they were of different nationality and religion, they could not continue with their professional routine. Instead, they choose to defy their superiors and if necessary, suffer the consequences.
Leading up to the exhibit, the JMM is presenting two Holocaust-themed educational programs. On January 21 there will be a 1pm public program on YIVO and the Lost Jewish Library of Vilna with Jonathan Brent, Executive Director of the YIVO Institute for Jewish Research and on January 28th at 3:30pm, a members-only preview screening of the new documentary I Missed My Train about a Dutch Holocaust survivor who revisits his experiences as a child in hiding.
For more information, go to http://jewishmuseummd.org/single/beyond-duty/