New York — Twitter on Thursday afternoon permanently suspended the account belonging to James O'Keefe, president of Project Veritas.

According to Twitter, the suspension is due to alleged violations of "manipulation and spam."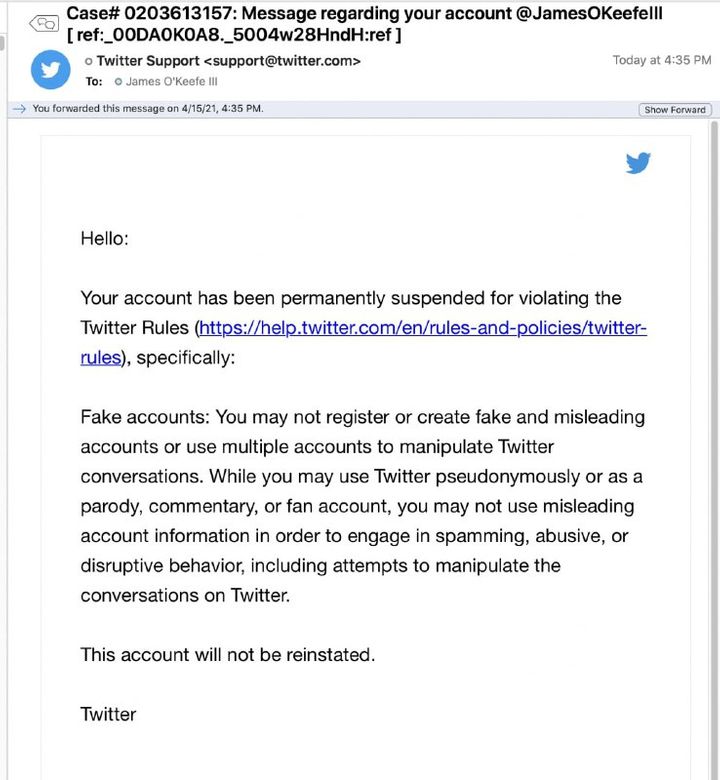 O'Keefe's suspension comes shortly after his group Project Veritas made headlines for exposing CNN's agenda on tape.
Yesterday, Project veritas released a clip of a CNN staffer talking to CNN's technical director Charles Chester, who said that CNN was responsible for getting Trump out of office.
"Look what we did, we [CNN] got Trump out. I am 100​ percent going to say it, and I 100​ percent believe that if it wasn't for CNN, I don't know that Trump would have got voted out," said Chester.
He also admitted that the reason he came back to work for CNN was to "be a part" of that agenda.
In a new tape released on Thursday, Chester can be heard saying that the network is "trying to help" the Black Lives Matter movement.
O'Keefe released a statement in response to his suspension, stating his intention to file a lawsuit against Twitter.
"I am suing Twitter for defamation because they said I, James O'Keefe, 'operated fake accounts,'" O'Keefe said. "This is false, this is defamatory, and they will pay. Section 230 may have protected them before, but it will not protect them from me. The complaint will be filed Monday."