Baltimore, MD - October 28, 2020 - I believe I first had the honor and pleasure of meeting Mrs. Hannah Storch, a'h -- the legendary Baltimore Jewish community matriarch who was recently nifteres at the age of 98 -- about 12 years ago. It was then that she commissioned me to write advance publicity for the M. Leo Storch Memorial Lecture - the first of numerous articles I would write about the annual event commemorating the yahrtzeit of her cherished husband, M. Leo (Moshe Aryeh) Storch, z"l, who predeceased her in 1972. Although it was a paid writing job, I knew a warm handwritten note or phone call expressing her hakaras hatov (gratitude) would surely follow. That was Mrs. Storch!
As HaRav Aharon Feldman, shlit"a, Rosh Hayeshiva, Ner Yisrael, mentioned in his hesped at the socially-distant levaya held outdoors on Sunday, October 25, in the Bais Yaakov High School parking lot, Mrs. Storch was a true Aishes Chayil – woman of strength.
"When I was a little boy here in Baltimore, the name M. Leo Storch was a household word. He had to do with everything educationally, spiritually, organizationally, and so much more. When he was niftar, his almanah continued in his ways, expanded him to this day. She was a partner in thousands of his endeavors. …She was the pride of Baltimore; the pride of Baltimore has left us."
HaRav Moshe Heinemann, shlit"a, remarked in his hesped that under regular circumstances, a levaya for Mrs. Storch would have drawn thousands of people. I'm sure thousands were probably listening to it or watching it from afar.
"Mrs. Storch didn't want a large levaya, and the Ribono Shel Olam made sure it didn't happen. The family deemed during COVID that it wasn't proper to have a levaya indoors. Outdoors, the Ribono Shel Olam sent the rain so it would be very uncomfortable. The Ribono Shel Olam was listening to her wishes."
Rav Heinemann continued to note, "When she was well, her days were filled with mitzvos, and even though she was an almanah for many, many years, she never turned away from the path that she and her husband, M. Leo Storch, set forth. The chesed that went out from their home was remarkable – it was open to anyone who needed help. People entering their home were greeted with warmth, respect, kovod, and financial assistance when needed. Mrs. Storch was a unique type of person which we don't see very often anymore. She carried herself with a dignity, almost a royalty, and she treated everyone with respect and graciousness. She was wise in the world of business and ably ran the family business for many years, going downtown to the office daily. A woman with common sense – which is not so common anymore. Besides the business, she was totally devoted to her family and to whatever she could do for Klal Yisrael. The dedication of the Storch family to Bais Yaakov is legendary. The school would never have gotten off the ground without the mesiras nefesh of the Storch family."
Mrs. Storch's son, Frank Storch, began the family hespedim saying, "Women have different strengths: some are outstanding supportive wives, some are exceptional mothers, some are loving grandmothers, some are active in community affairs, some are capable to deal in business. Rarely do you find one person who excels in all of these areas in unique ways. My mother was all of the above plus more. My father, z"l, passed away after they had been married for only 18 years. I was young. From what I saw and from what I heard since then, Mom's total devotion was to Dad. She was there for him with anything he needed. She anticipated his needs. She shouldered many tasks so that he would be available to the Baltimore Jewish community that relied on him so much. But, it didn't stop when my father, z"l, was niftar….She was an exceptional mother. She realized the strengths of each of her children and did her best to bring them out and guide them. Both my sisters are imbued with many of the wonderful midos and sensitivities that my mother was known for."
Frank continued, "Rabbi Brull wrote this morning, 'Mrs. Hannah Storch was without a doubt royalty in Baltimore. This is just one example of how she did chesed in her quiet unassuming way. Before every winter season began, Mrs. Storch would call me to her home and she would say, 'Rabbi Brull, do you know that it is getting cold outside. I'm sure there are many people – and children - who don't own coats and gloves and scarves. I bought these hundreds of coats and gloves and scarves and would like you to please distribute them.' Mrs. Storch constantly thought of ways to help everyone. Her life was never about herself – only about how she could help others. She is irreplaceable.'"
"My mother was zoche to arichas yomim, and we were zoche to be with her, see her and learn from her for these yamim," noted Frank, "and that zechus comes with an achrayus. Yes, we were incredibly blessed to have had years living with Mom, but we know that we are now responsible to continue to live by her standards and continue her legacy. She taught us by lesson and by example how to be a devoted spouse, parent, and community leader. We have a powerful role model to follow, an incredible example to live up to…Please go now before the Kisei Hakavod, and beg for brachos and hatzlacha for your precious mishpacha, and for refuos and yeshuos for our community – which, to you, was like mishpacha."
Frank concluded by expressing his deep appreciation to family members as well as his mother's numerous caretakers over the years.
"I want to express my profound hakaras hatov to my mother's brother, Uncle Eli Hirmes, who for decades, selflessly made the New York to Baltimore trip - thousands of times, often weekly, for decades - from the time my father became ill and after he passed away to help my mother run the business."
Mrs. Storch's son-in-law, Rabbi Shlomo Spetner, who is married to Mindy, provided some family history:
"Our father, Rav Moshe Aryeh Halevi, sought out a zivug that could be his true eizer. He married a Bas Talmid Chacham; our grandfather was a talmid in Slobodka. He had been a Rav in America, and that mesorah was imbued into the family to our mother and very much imbued into the family by our grandmother. We didn't have the zechus to know our grandfather, but our grandmother had told us what he was, who he was, and his mesiras nefesh.
Our mom was born in Atlanta, Georgia in 1922. I can't imagine what a midbar that must have been. He was a Rav in Georgia. In the 1930s, he came to the Northeast to be a Rav in the New Jersey area. That mesorah is what built our family and that is what our father sought out in his zivug. He was not a young man when he got married, he was a mature man. He had been in Europe during the war, stationed in England. In fact, he was very close to Mrs. Chana Bamberger's family in England. When he got to England, he sought out a place where there was Yiddishkeit – a place where he could make sure to maintain his Yiddishkeit. He went to the Ehrentrau family and spent Shabbosim and Yomim Tovim there.
After the war, when he came back, he found his zivug and wrote to Rebbetzin Ehrentrau how proud she would be of his choice of a kallah. When they were engaged, the first place he went was to show her the new Bais Yaakov on Greenspring Avenue that was a single, old building called 'The Mansion" – saying, 'This is where we are going to build the future.' She became a complete partner in every way, enhancing all he had done. She was his assistant, his personal secretary for every speech he ever gave. She would type it for him, edit it for him, and although it is almost 50 years since Reb Moshe Aryeh HaLevi was niftar, most of the people who live in Baltimore have no idea…having some history is important to understand what this is all about."
Rabbi Spetner continued to note, "After his [M. Leo Storch's] petira, you would think that something like worrying about the Kashrus in town would not necessarily be something that an almanah would take on. She's the one who is responsible for the Vaad HaKashrus in Baltimore. She energized it, she drafted young baalei baatim - by the way, these baalei baatim are long retired – and said, 'You need to build the Vaad HaKashrus!', and these baalei baatim made a very wise choice, went forward and hired Rav Heinemann. To this day, of course, we know that the Vaad HaKashrus, the STAR-K is the premier Kashrus, possibly, in the world."
Mrs. Storch's son-in-law, Mr. Yaakov Hillel Gross, who is married to Judy (Bregin), recalled the first time he met his future mother-in-law.
"I was immediately struck by her regal appearance. You knew you were in the presence of somebody special; it was as if you were with the queen. She just gave off that aura. Her dress, her demeanor was from a long-ago era, a different time. She was an icon that we were blessed to see in our age. There is no other duplicate of her today. She was the last of a very special breed; she was a very special lady….She was always thinking of others; she was kulo tzidkas. If you went to her house, you would imagine this lady could afford the fanciest home in Baltimore, but she lived a simple life. There was nothing fancy about the house, but you walked in and you knew you were in a mansion; you knew you were in the presence of somebody special. She had malchus about her; she was proper. A true eizer knegdo to her husband."
The last of the maspidim were Mrs. Storch's grandchildren, representing each of her children's families.
Yoni Adler:
"Grandma loved her family and took pride in family"; "We felt as her grandchildren, there was nothing as important to her as her grandchildren. We didn't see her as Mrs. Storch, we saw her as 'Grandma'…Grandma would be so excited to hear who got their siddur; who got their Chumash; who started learning Gemara; who was about to graduate high school; who just finished their finals in graduate school…Grandma always had her famous freezer full of brownies, her pitcher of soda, and, of course, Grandma candies on her table…..The gifts that HaKadosh Baruch Hu gives you in abundance, the talents HaKadosh Baruch Hu gives you that are unique, create an obligation on the individual to recognize them and use them for avodas Hashem. Thus, returning to Hashem all He has given to us. Grandma understood that and we learned from that…My grandmother taught us, by example, the importance of "hatznea leches im Elokecha" – there is no need for fanfare, in fact, it detracts from the mission; participate quietly. It is the results, the building of Torah successfully that is important; it is not something for which you need to be applauded. You give these things not because it is l'fnim mesuras haDin, but simply because they are your obligation as a member of Klal Yisrael. There is much to learn from Grandma's legacy."
Chaim Storch:
"When I think of Grandma, I feel that she personified this trait of Noach – tamim haya b'dorosav…Everyone knew that if something needed to be done, they could count on Grandma. At the same time, she was the matriarch of the Storch family. As her grandchildren, we felt very special to her…You could tell that one of her greatest joys was having the whole family together.
Ari Bregin:
"Nothing made her happier than having all of the cousins together. She enjoyed hosting the yearly Chanukah get-together for all the cousins. She always made sure to have a fun event with every detail organized. Grandma was the center of the family. It was our top priority to visit her and spend time with her. When out-of-town grandchildren would come for Shabbos, she was the first stop. It was not uncommon to meet other cousins there on erev Shabbos visits. Her home was the center for the family. She was a true giver; she never thought about herself and she was always concerned for everyone else…She was a private person, never mentioning all of her many significant life accomplishments, but we knew as grandchildren how well-respected she was in the community. We felt proud to be Storch grandchildren. She was a real presence and so well loved by the whole community. We hope that we can all continue her legacy – and continue chesed for our families and the greater community."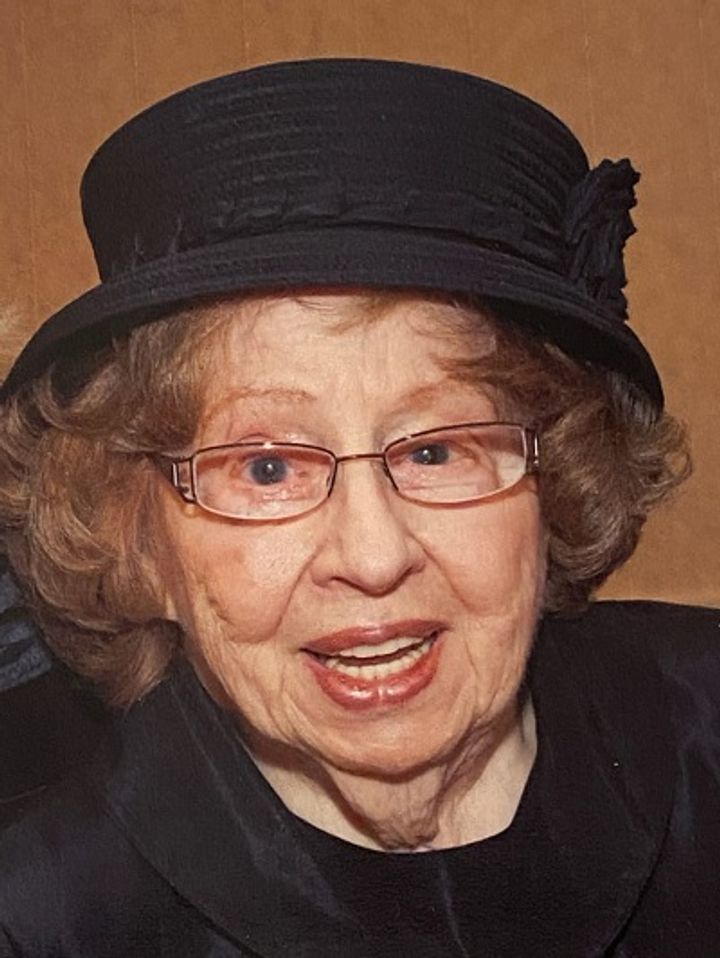 Mrs. Hannah (M. Leo) Storch, a'h

SIDEBAR:
The Storch Legacy
A book could (and should!) be written about the myriad acts of gemilus chasidim that M. Leo and Hannah Storch, z"l, performed in the Baltimore community and beyond. These testimonials reflect the impact of just some of the Storch family's philanthropic endeavors and acts of kindness in Baltimore and the innumerable lives they have touched.
Mrs. Chana Bamberger, Past President, Bais Yaakov of Baltimore's Ladies Auxiliary: "She was always very, very encouraging of any project that we were thinking of undertaking and that we undertook. Besides encouraging us, she also supported us in a very substantial way - not only financially. She was always a very large participant in our Mishloach Manos project and she helped us for our luncheons and in sending out mitzvah cards….It wasn't a matter of signing a check, it was more than that. She gave her time, her interest, her help, and her encouraging support."
Avrom Pollak, President, STAR-K: "Mrs. Storch and her husband were prime supporters of STAR-K Certification from its inception. In 1947, Mr. Storch was the main founder of the Orthodox Jewish Council of Baltimore, which wasn't only a kashrus organization. The Storches helped us immensely in our launch of the Vaad HaKashrus as a local agency and, as the demand for "kosher" began to explode in the 1970s -- precipitating the expansion of our services and staff to take a more prominent role, globally – they were true partners in our morphing into a premier international Kashrus organization. Our quarterly publication, Kashrus Kurrents, which features articles written by STAR-K administrators about Kashrus and other mitzvos, was made possible by a grant sponsored by Mrs. Storch."
Rabbi Shlomo Porter, Dean & President, Etz Chaim: Mrs. Storch was Etz Chaim's angel. She gave the original seed money to start Etz Chaim in 1976. She continued to have an active role in growing branches to the original Etz Chaim, i.e., The Rebbetzin Frieda K. Hirmes Women's Institute of Torah (WIT); a Russian outreach program that developed into Achim; college outreach that became The Jewish Collegiate Network, and more outreach initiatives. She gently and firmly pushed the boundaries of Kiruv further and further. May she enjoy the fruits of her labor in Gan Eden forever."
Tzvi and Bryna White, Founders NWCP: (Mrs. Storch)…touched the lives of tens of thousands… Who can forget her pleasant personality, her spirit of caring, her sensitivity and generosity? Hashem gave her the opportunity to open many doors, and she seized all that she could. Her wisdom helped to shape many, many facets of the Baltimore kehilla, enabling it to grow and prosper…Just on a personal note, in 1982 the NWCP was only one month old when we received our first donation...(from Mrs. Storch), of course, accompanied by a warm note of encouragement that was characteristic of her style...enabling the purchase of the CB radios that we used initially. It goes without saying that the NWCP was the beneficiary of her support and counsel many times after that as well. (Mrs. Storch) was a queen, an embodiment of the highest principles of the Jewish people. She was a living kiddush Hashem, and she will be missed by one and all.
Ruth Guggenheim, Former Executive Director, Jews for Judaism: "No words can adequately express the feelings of loss I had upon hearing of Mrs. Storch's passing. Her love for Klal Yisroel is beyond words. Those of us from Jews for Judaism knew her as the founder and matriarch....But, most importantly, she was a woman of tremendous dignity and love for every person she ever came in contact with. Through her kindness, generosity and love for every Jew, she literally saved hundreds of thousands of Jewish souls and ensured that they stay connected to Judaism. I was blessed to have her as a friend and mentor for over 30 years. A greater woman there was none. She will be missed by all."
Linda Elman, President, The Rebbetzin Frieda K. Hirmes Women's Institute of Torah (WIT): "Mrs. Storch left an everlasting legacy to the women of our Baltimore community. She had the vision and the foresight to create the Rebbetzin Frieda K. Hirmes Women's Institute of Torah (WIT), named in memory of her beloved mother. WIT was formed at a time when people were just beginning to recognize the importance of continuing education for women. On a personal note, I always looked to Mrs. Storch as a role model and a mentor. A woman of great conviction, Mrs. Storch led by example, filling needs she saw in our community. Behind her soft demeanor one felt her strength and determination. She will be sorely missed."
Rabbi Efy Flamm, Executive Director, The Jewish Collegiate Network: "Mrs. Storch founded The Jewish Collegiate Network in the late 1980s and was a big supporter in its initial stages of programming, with ideas and funding to help it get started, and she was always somebody who had a strong passion to help reach out to Jewish people and show them how relevant Jewish life is to them."
May we be zoche to follow the example set by Mrs. Hannah Storch - Chana bas Avraham Pesach – in continuing her mission to fulfill the needs of our community and Klal Yisrael, and may the Storch family find comfort in the beautiful legacy she leaves behind.
Watch: Levayah of Mr.s Hannah (M. Leo) Storch, a'h
Click here for shiva details

Click on each section below to watch different segments of the the levayah (Due to technical difficulties, some segments are not available)
A ) Rosh HaYeshiva, HaRav Aharon Feldman, shlite & HaRav Moshe Heinemann, shlita
B) Rabbi Shlomo (Mindy) Spetner & Rabbi Yaakov Hille (Judy) Gross, Yoni Adler, Chaim Storch, Ari Bregin, Yoel Braun (Keil Maleh)