Baltimore, MD - Dec. 12, 2019 - Sometimes, there are things in front of you that are so routine and normal that you forget to appreciate them. Yesterday, Dec. 11, I was reminded of how special our community is and how incredibly lucky we are to be part of this extraordinary group that is the Orthodox Jewish Community of Baltimore. At the invitation of Rabbi Ariel Sadwin, Executive Director of Agudath Israel of Maryland, representatives of nearly every single school and community service organization gathered at TA for a brief "meet and greet" to welcome and introduce themselves to Maryland's newly elected Speaker of the House, Del. Adrienne Jones. Each representative was given less than one minute to introduce their organization and its mission in order to show Speaker Jones just how unique and special Baltimore's Orthodox community is. While none of the organizations were new, nor their mission different than expected, the feeling in that room was an incredible mix of pride and appreciation of Mi K'amcha Yisroel.
Present were: Achim, Agudah Maryland, Ahavas Yisroel, Bais Medrash and Mesivta of Baltimore, Bais Yaakov, Bikur Cholim, BJC, Bnos Yisroel, Bonei Olam, Chaverim, Cheder Chabad, CJE, Etz Chaim, Hatzalah, JCN, JEWELS, Kehilath Bnei Torah, Kesser Torah, Khal Chasidim, KAYTT, Menucha, Misaskim, Neimus Hatorah, Ner Yisroel, NWCP, Relief, Shearith Israel, Shemesh, Shomrim, TA, TI, Toras Chaim, and the Vaad HaRabbonim.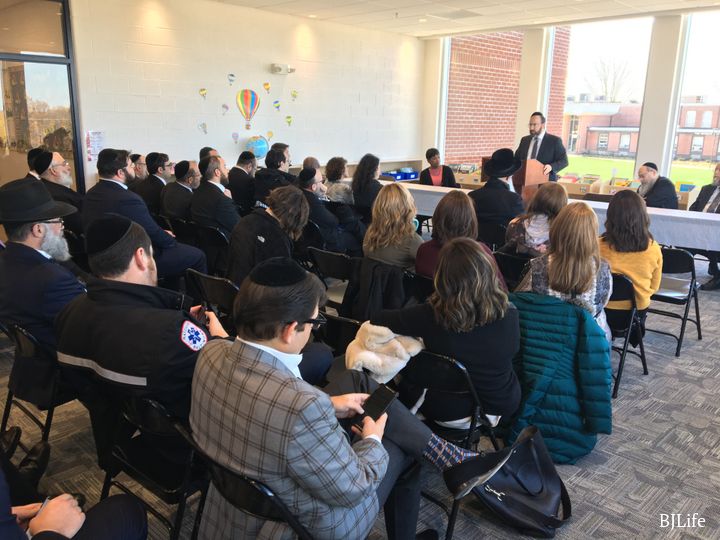 As speaker after speaker introduced themselves, it was impossible not to feel so PROUD, so APPRECIATIVE, so GRATEFUL to be part of this microcosm of humanity that represents the absolute best of humanity. It is right in front of us, but sometimes we forget to appreciate it.
As a community joined by common goals - of taking care of each other in all different types of ways - we will continue to daven that Hashem bless our efforts so we can all actualize our individual missions for the ultimate good of the Klal.
Baltimore is special. Let's not forget it.
(We all thank Rabbi Sadwin for putting this opportunity together and for all that he does for the community)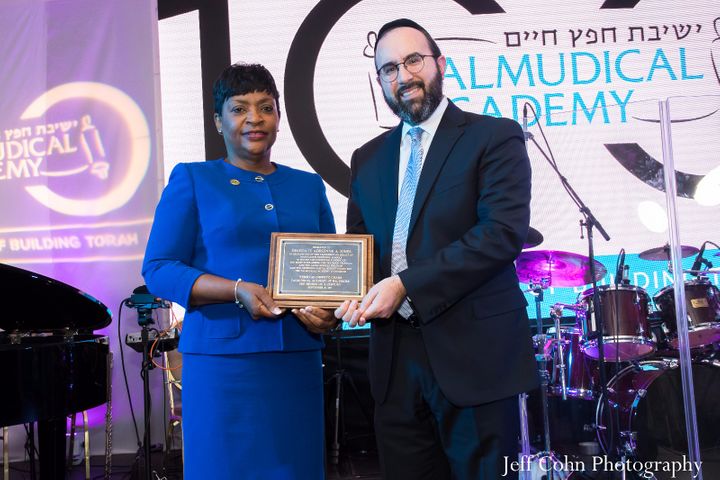 Speaker Jones and Rabbi Sadwin at the TA hundredth anniversary dinner