Congress is currently considering two key bills that will significantly boost security for our community institutions - shuls, schools, religious facilities, charitable and social service centers - under the Nonprofit Security Grant Program (NSGP). Facing an increasing threat of violence - including murderous attacks this past year in Pittsburgh and Poway -- the Jewish community has a strong stake in this program and must support Congress's efforts to strengthen it!
The NSGP provides assistance (in many cases up to $150,000) to nonprofits to make security enhancements to their facilities. These enhancements may include security cameras, concrete barriers, reinforced doors, etc. It may also include in certain circumstances security personnel. Eligible nonprofits must be at high risk of terrorist attack.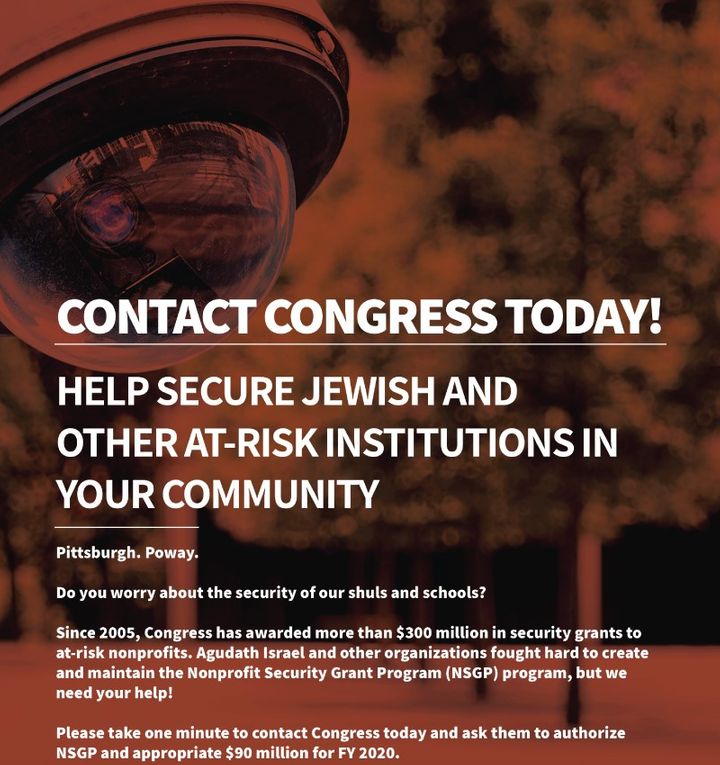 Ask Congress to support legislation that will:
1. Authorize NSGP - Since NSGP was never formally "authorized" by Congress, community advocates must return each year to House and Senate "hat in hand" and request funding. This is a difficult and uncertain process with many obstacles. Authorizing the program would help ease the way for annual funding and ultimately strengthen the program.
Both House and Senate Homeland Security Committees have approved legislation to do this - H.R. 2476, introduced by Rep. Bennie Thompson (D-AL); S. 1539, introduced by Sens. Rob Portman (R-OH) and Gary Peters (D-MI) - and we must urge all Representatives and Senators to support this vital legislation.
2. Appropriate $90M for NSGP - Due to the escalating violence targeting nonprofits, including houses of worship, current appropriation levels are simply not adequate to provide the kind of protection needed. The House Appropriations Committee has approved FY2020 funding at $90 million, a significant 50% increase over current levels, for NSGP.
We must urge the full House and Senate to pass the a $90 million NSGP appropriation for FY 2020.
Agudath Israel and other organizations, under the coordination of the Jewish Federations of North America, fought hard to create and maintain the NSGP program. It is thanks, in part, to grassroots activists like you that the program continues to expand. Your voice makes a difference.
Please email or call your member of Congress today.
Thank you for your help and support!
Rabbi Abba Cohen
Vice President for Government Affairs
Washington Director and Counsel