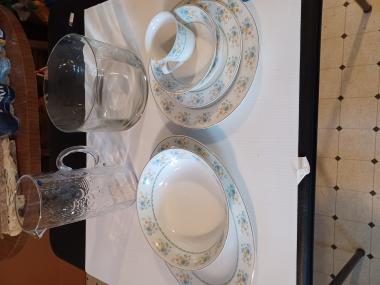 PASSOVER DISHES, SERVING PIECES
WE ARE DOWNSIZING AND NO LONGER HAVE NEED FOR MANY PESACH KELIM. AVAILABLE IS A BEAUTIFUL SET OF CHINA (FLEISHIG), SERVICE FOR 8 (ONE SMALL SAUCER MISSING), PLUS A LARGE SALAD BOWL (PAREVE), A PORCELAIN SERVING PIECE WITH LID (FLEISHIG), A GLASS PITCHER (PAREVE) AND SOME GLASSES. BEAUTIFUL STUFF. FROM A STRICTLY KOSHER AND RELIGIOUS HOME.
SET OF CHINA: $75
SALAD BOWL: $30
PORCELIN SERVER: $40
PITCHER: $10
GLASSES: $3.
LOCATED IN WHITE OAK, SILVER SPRING, ONLY 45 MINUTES AWAY!
Price: $0.00
For More Information, please contact BRIAN DAVID ROZEN at 2404324920 or brozen3297@yahoo.com