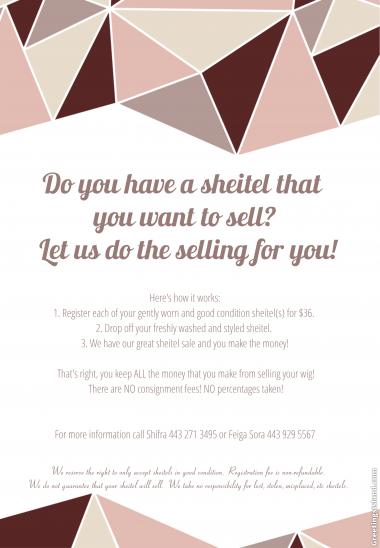 Trying to sell your sheitel?
Do you have a sheitel that you want to sell? Let us do the selling for you!
Here's how it works:
1. Register each of your gently worn and good condition sheitel(s) for $36.
2. Drop off your freshly washed and styled sheitel.
3. We have our great sheitel sale and you make the money!
That's right, you keep ALL the money that you make from selling your wig! There are NO consignment fees! NO percentages taken!

We reserve the right to only accept sheitels in good condition. Registration fee is non-refundable. We do not guarantee that your sheitel will sell. We are not responsible for lost, stolen, misplaced, etc sheitels.
For More Information, please contact Shifra at (443)271-3495 or shifratropper2@gmail.com