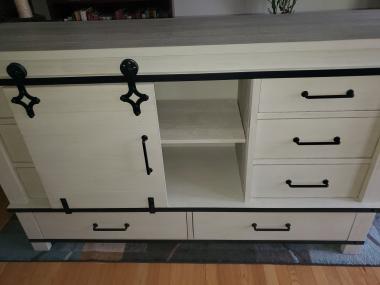 Bedroom Set like new!
Beautiful & unique, ivory colored solid wood set.
This set was used by my daughter for a few months before she moved out of state to a furnished apartment. Everything was purchased new ($2100).
Set includes:
Long, VERY heavy dresser with a sliding door that covers the drawers. Lots of storage space! With the black metal accents it has a kind of medieval look. Very unique looking!

Nightstand with drawers.

Queen size bed - memory foam mattress barely used in mint condition with box spring.
Bed frame has a light blue microfiber covered, large headboard & footboard as well as blue sideboards.

The mattress was wrapped by professional movers & untouched since August. The green plastic wrap on the furniture was also done by professionals.

There are a few very small dings on the wood (see pictures) that happened when it was moved from her apartment. Barely noticeable & insignificant.

Bed is disassembled and ready to go!
Again, the dresser is VERY heavy. It is in our living room because even the movers couldn't get it upstairs due to a winding staircase. I suggest 3 or 4 strong people to move it.

NOTE: We have cats. They have NOT been on any of the furniture which is in a closed bedroom. Also, I smoke a pipe indoors. If cats or pipe smoke bothers you, you should pass on this. However, the mattress is in a SEALED bag in a closed room, so there should be no issues with odor.

Finally, should you decide to take it, I will require a $100 NON-REFUNDABLE cash deposit to hold it for pick up. Of course, this will be applied to the total.

You will LOVE this set! It is a neutral color to match most any decor!
Price: $1200.00
For More Information, please contact Mike at 4439929048 or Lvmym8@comcast.net