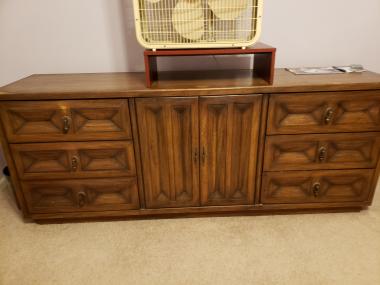 5 Pc Bedroom Set-Real Heavy Wood! Must Sell By 3/26
Nice 5 piece bedroom set for sale. HEAVY REAL SOLID WOOD! NOT PRESSED WOOD. NOT IKEA GARBAGE. Dark brown color. I don't know the type of wood but it is real and very heavy!

Perfect for the people just starting out in a new place, a college student, or a guest bedroom. All in good condition. You might want to refinish the furniture as there are numerous scratches & signs of wear, but nothing cracked, dented or broken. Look at all pictures & ask questions before showing up!

Includes the following:

1) Long dresser. 78"w x 30"h x 19"d. Has many drawers plus the middle has 2 doors hiding drawers behind them. Lots of storage space! 6.5 feet long!

2) Tall dresser (Wardrobe). 40"w x 60"h x 17"d. Has many drawers top to bottom plus 2 big doors hiding the top set of drawers, with large drawer at the bottom. No noticeable damage on this piece.Tons of storage space! 5 ft. high!

3) 2 Night tables. 24"w x 23"h x 16"d. Has 1 drawer on top plus 2 doors hiding a large space behind it. Lots of storage space! (No you can't have the cat!) Top has lots of wear & scratches. Of all the pieces, this one has the most wear/scratches.

4) Queen size bed. Barely used by my college student daughter (she weighs about 110 lbs.) Mattress is an off brand, very firm soft pillow-top, and is a deep pocket type (requires deep pocket fitted sheet) plus extra dense 3 inch thick memory foam topper (top of the line, weighs about 30 lbs just for the topper alone.) The mattress has been covered by the topper since day one. Mattress is beautifully clean and unstained. Very firm & well kept. No dips or soft spots from use, and just as firm as when I bought it a year ago. Box spring is like new as well with no issues, and was purchased with the mattress. Bed frame is a standard adjustable rail frame with extra riser legs (they are removed at this time but the frame legs sit just inside them. They are like new, daughter didn't like being up so high. Bed is in mint condition, and has no squeaks or anything else annoying. There is no headboard or foot board, but the frame has the plates to attach them if you decide to add them later.

So, you get all 5 pieces that are matched perfectly, for a low price of $300.00 For solid wood furniture that's a steal!

Here are the parameters of the deal:

- The price is firm. I will accept CASH ONLY. Do NOT come and say you only brought $250, as you will be wasting my time and yours. Do NOT come expecting to make a deal or to low ball me. This is already a deal. NO CHECKS! NO PAYPAL!

- As mentioned, the furniture is VERY heavy. It will require 2 or 3 strong people to carry it down 1 flight of stairs. The stairway has 2 turns with 1 landing. It's a townhouse. Someone got it up the stairs, so someone can get it down. I suggest bringing 3 people just in case. I am disabled and cannot help at all.

- We have 3 cats in the house. If you have any sensitivities to cats, do NOT come! They have not been on the mattress itself, but have been in the room and on the bed sheets. We do have 4 air purifiers in the house, so if you feel like that will be ok, that's your choice. Just bring your rescue inhaler because I don't have one.

- Items are being sold as a set only! If you only want some but not all, stay home. You can do what you wish with any of them after picking them up, but you must pick up all of them! I am sure many of you will want to pass on the bed because you may already have one or would prefer a brand new one that has not been in a smoking environment with cats. Therefore, you will load the bed onto your truck first so I don't get stuck with it after you leave with the other 3 pieces. It's not about trust. Well, actually it is, because I don't know you. Please don't take offense. It is what it is.

- If you decide you want it all, but have to come later to pick them up, that will be fine. You must leave a $150 NON-REFUNDABLE CASH deposit to hold them for you. I am home almost every day, so time of day is no issue. It's not a weekend-only type of transaction.

- I suggest you bring blankets or something to wrap around the furniture. This will protect it for you, and protect our walls from dings while being carried down the stairs. I do not have blankets for you. I stress again, this is VERY HEAVY furniture. I can't even slide it from the wall by myself, let alone help carry it. It is on a carpeted floor, so sliding is difficult.

- Please do NOT call before 10am or after 10 pm. Thank you.

- Finally, all items MUST be picked up by Thursday, March 26. My daughter is moving back home and bringing her own furniture on the day after that. Remember, failure to come back or telling me you changed your mind will result in the forfeiture of your deposit!

If you have read and agree with all the above, then please contact me by email or phone. If I happen to be out, leave a message. I promise to call you back asap.

I want to make this an easy transaction. Unfortunately, the few bad apples who buy and sell on here have made it difficult for others who are honest. I apologize if anything I said above sounds harsh or arrogant, but that is where we are these days.

Look closely at all the pictures. I think I covered everything with them, but am perfectly willing to take more if you need me to. Thank you & good luck!


Price: $300.00
For More Information, please contact michael i caplan at 4102057484 or lvmym8@comcast.net