Agudath Israel Leaves a Lasting Impression with Mission to Springfield, Illinois (Photos)
By AIA/Leah Zagelbaum
Posted on 05/28/18

Before the clock struck 6:00 AM, nearly fifty dedicated men and women hit the road to attend Agudath Israel of Illinois' (AIOI) annual Springfield Mission on Wednesday, May 9. According to all accounts, this year's mission was productive, enjoyable, and provided a fascinating behind-the-scenes-look into Agudath Israel's relationship with state government.
A primary focus of this year's agenda was to protect Illinois' new $100 million Tax Credit Scholarship Program. This new program allows Illinois taxpayers to claim tax credits for donations made to organizations that award scholarships to low- and middle-income students attending private school. Agudath Israel played a central role last year in helping to pass the program as part of a bi-partisan compromise on education funding, and many children attending Jewish schools have already been awarded full scholarships for the upcoming school year. The program is currently under threat from the proposed Senate Bill 2236 that would prevent donors from receiving tax credits and students from receiving scholarships until the state meets the minimum funding level for public education. AIOI delegates lobbied legislators not to use children as leverage in the political process, nor to have them penalized should there be a budget stalemate.
Agudath Israel also advocated for funding of a security grant program for nonprofit organizations that was introduced last year at the request of AIOI. Although the bill was signed into law, it has yet to be funded. AIOI's delegates articulated the concerns of the community, illustrating how funding would provide organizations with the ability to protect themselves against real and imminent security threats.
Additionally, Agudath Israel lobbied for the renewal of a school transportation grant which has serviced over 2,000 students in the past year alone. The last item on the agenda was a bill to protect Hatzalah volunteers from financial harm. House Bill 1336 would safeguard the insurance policies of volunteer EMS providers that are involved in an accident while responding to emergencies.
At 9:30 AM, the first round of breakout meetings began. The delegates were divided into a number of groups for concurrent conversations with various lawmakers. By both pre-arrangement and providence, several meetings with legislators took place. After a series of productive conversations, the group moved on to meet with Republican leadership. The participants were fortunate to be able to meet as a group with Senate Republican Leader Bill Brady (R-Bloomington), and House Republican Leader Jim Durkin (R-Western Springs). Also present was Senator Jason Barickman (R-Bloomington) who was a key negotiator that brought about the Scholarship Tax Credit Program and worked very closely with Rabbi Shlomo Soroka, AIOI's director of government affairs, on the program's policy. The Republican representatives expressed an interest in developing a closer relationship with the Orthodox community and listened attentively to the issues brought up by the group.
Next, the Springfield Mission members met with Governor Bruce Rauner, who graciously made himself available to spend some time with the group. They received a warm reception from the Governor, who was eager to share his experiences and thoughts from his recent trip to Poland where he had visited the Auschwitz concentration camp and Jewish memorial sites in Warsaw. He expressed his resolve to find a way to fight anti-Semitism and asked the group for ideas on how to address recent issues that he is grappling with. He pledged his support for all agenda issues that were discussed. As a whole, participants left the session feeling positive and productive.
Following this meeting, the delegates again divided up to meet with various senators and state representatives, as well as Empower Illinois, the largest scholarship granting organization in the state through which the tax credit program is being administered. Along with the Catholic Conference of Illinois, AIOI has worked hand in hand with this organization for years in advocating for the program and has collaborated in its implementation. The meeting was mutually beneficial as important information, developments, and ideas were exchanged.
The final legislative meeting was scheduled to take place with Speaker of the House, Michael J. Madigan (D-Chicago), a longtime friend of Agudath Israel, along with Senate President John Cullerton (D-Chicago), a staunch supporter of AIOI. Deputy Majority Leader Lou Lang (D-Skokie), who faithfully represents the majority of the Orthodox Jewish community was also invited to join. With frenzied activity constantly disrupting routine late in the legislative session, it's not uncommon for conflicts to occur, and unfortunately, an emergency caucus meeting delayed Speaker Madigan, President Cullerton and Representative Lang until the group had left Springfield. During lunch, held at the historic Old State Capitol, participants enjoyed a delicious and elegant meal while listening to an address by Associate Director at the Illinois Department of Revenue Chimaobi Enyia, the agency administering the new Scholarship Tax Credit Program.
Members of the Springfield Mission returned after a long day, exhausted, but thrilled with all they had accomplished. Although time will tell as to the full and final impact of the mission, the first sprouts of positive change were seen throughout the following days. Some lawmakers who were unaware of, or undecided on, certain bills and issues, were receptive to AIOI's perspective. Legislators who were already proponents of Agudath Israel's agenda were encouraged and enthused, and promises were made to try to push certain items in the coming months. "This past year, very significant achievements that directly benefit our community have come about through working together with state government," commented Mindi Zissman, a veteran mission participant. "It was apparent that none of this would have been possible without the tireless efforts and close relationships that Rabbi Shlomo Soroka and his predecessors have cultivated."
After meeting and interacting with nearly 30 legislators, participants of the mission were impressed by the respect which they were treated, a testament to the strong relationships that AIOI has built and the value they place on this unique form of communal engagement. Their intimate familiarity with, and respect for, Rabbi Soroka was apparent and facilitated access to offices on both sides of the aisle, something that is unfortunately increasingly rare in Springfield. Overall, it was a great day for both lawmakers and participants, and Agudath Israel is optimistic that the impact made will lead to the sustainment and growth of prior accomplishments, as well as to new achievements for the entire Jewish community.
"Perhaps the most important benefit is that legislators understand that Agudah acts as the ambassador of an engaged constituency," said Rabbi Soroka. "When Agudah speaks, it's not an individual they hear, it's the vibrant voice of an entire community."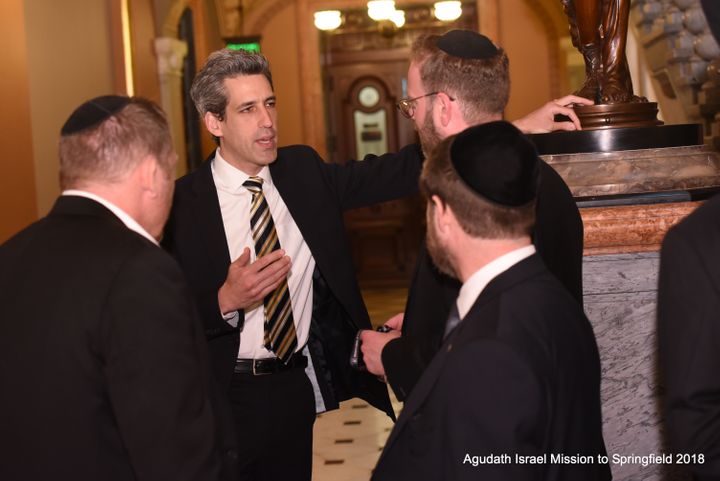 With Senator Daniel Biss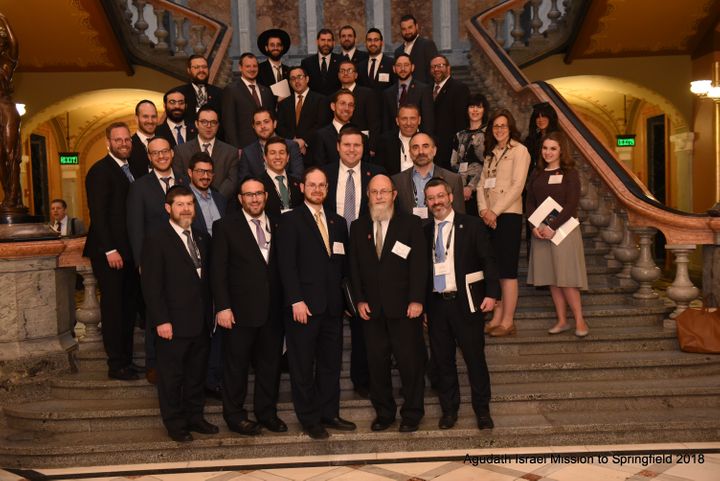 Group Photo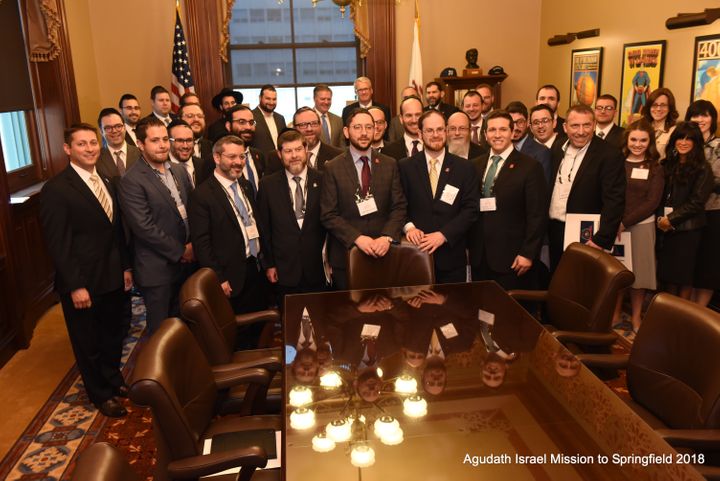 With Senate Republican Leader Bill Brady (R-Bloomington), House Republican Leader Jim Durkin (R-Western Springs), and Senator Jason Barickman (R-Bloomington)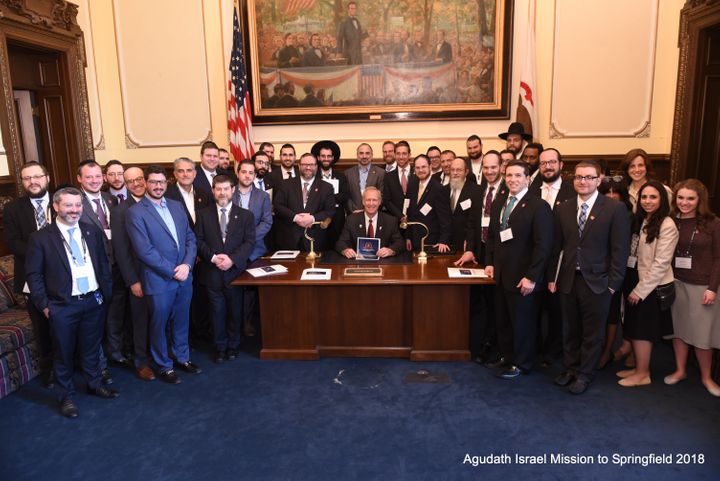 With Governer Bruce Rauner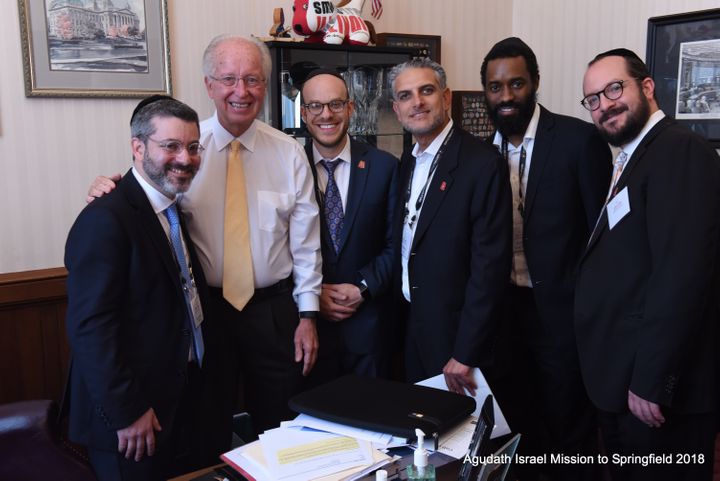 With Senator Terry Link