Jerusalem, Israel - Dec. 9, 2019 - On a very wet and rainy Thursday evening, The Jerusalem Cinematheque was the scene of a unique fundraising project. In spite of heavy rain, Theater #1 was full with family, friends, and supporters, to see the premiere of the documentary film, "The Declaration of Independence of Yitzchak Shmidman," created by Shlomi Kombor and Moshe Yonas. Seats in a smaller theater had sold out so quickly the event was moved to the larger space.
Kombor and Yonas, leaders of the creative team of the Community Television Department of Idan, started out to make three short films for Idan. Since 1983, Idan, a non-profit public organization has been providing health and community services to senior citizens in Jerusalem, Israel, at the Bayer House in Ramot Eshkol and the Golden Age home in Katamon.
The association has a variety of services in the nursing homes, besides the basics of housing and meals, tenants receive personal care, physiotherapy, occupational therapy, communications clinics, nurses, and therapists. There is also a day center with activities and a short vacation stay option.
One of the volunteers working with Idan seniors with dementia was 29 year-old Yitzchak (Yitzy) Shmidman, son of Yosef and Yaffi Shmidman. Interaction of the seniors with Yitzy inspired the video producers to do this longer documentary film.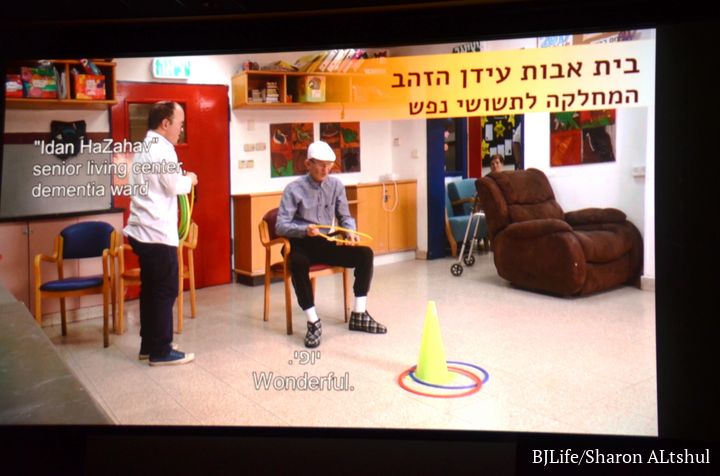 In the film Yitzy proudly shows how he manages and monitors his diabetes. A sports-loving, fearlessly independent young man, in spite of a metabolic disorder, being home bound after begin hit by a car while in a cross walk was a challenge for the family. For weeks, Yitzy had to stay off his feet to heal properly. The camera followed - both the ups and downs.
Yitzy is supervised by occupational instructor Avner Sorek of The Feuerstein Institute, an international educational, treatment and research center founded in 1965, by famed developmental psychologist Reuven Feuerstein, z"l. The Feuerstein Institute has a mission is to teach people to think and learn to the best of their abilities. The Feuerstein Institute's Residential Rehabilitation Center provides dormitory housing and communal living for those with varying degrees of special needs for ages of 22-55. The kitchen and communal living spaces of one dormitory are seen in the film on a tour led by Yitzy. Fellow residents received front row seats at the Cinematheque for the premier screening, which included speeches and a discussion panel after the film.
Shmidman family friends Moshe and Vivian Shecter attended, along with two granddaughters. When Yitzy was in high school Moshe Shecter would pick Yitzy up on Friday mornings. First, they would go to minyan together, and then proceed to Machane Yehudah Market where Moshe would show Yitzy how to use money correctly. Then Moshe would ride Yitzy to school - on his motorcycle. The mutual affection was obvious years later. "Knowing Yitzy has made me a better person," reminisced Shecter.
Though it was cold outside in the Jerusalem winter night, inside the theater the love for Yitzy made the movie premier a very warm and positive experience for all.
Photo essay includes scenes from the documentary, family members, and long time family friends.