Baltimore, MD-March 19, 2023 – Dr. Melissa Klapper has wanted to be a Jeopardy! contestant ever since she was a young girl. She grew up in a family – in Dallas, moving to Baltimore in ninth grade -- where knowledge-based board games were played and Jeopardy! was one of them. She actually tried out for the show when she was a teenager.
"In those days, you had to go where the auditions were and take a test; my parents drove me to DC," recalls Melissa, who has been a professor of history at Rowan University in Glassboro, New Jersey, for 22 years and teaches American and women's History; she is also the director of the Women's and Gender Studies Program there. "I didn't make it back then because I didn't know anything about sports. I still don't know anything about sports."
Today, says Melissa, they've made the try-out much easier, probably partially because of COVID. It is all online – even the last audition – making it the process of becoming a contestant on "America's Favorite Quiz Show" which will turn 60 in March 2024, more accessible.
To try out, one must first take the online "Jeopardy! Anytime Test," during which adults 18 years or older have 15 seconds to answer each of 50 different clues. If you do well enough on that, you get invited to take a second online test that has more questions that must be answered faster.
"If you do well enough on that, you get invited to do the third step," explains Melissa. "It's really more of an audition; they want to see you and hear you speak. You also start filling out paperwork so they can learn more about you. Most people who make it to that third step go into a contestant pool for 18 months. They either call you to come on the show, or they don't. I took the test before and never got a call. I did the whole process again, taking the Anytime Test right after my first 18 months ended in June 2022. I made it to the third stage again in September, and they called me in December; I had about a month's notice until I had to leave for California to tape the show."
By the way, Melissa continues, even going to L.A. – at your own expense -- does not guarantee that you will appear on the show since things can happen, as the fine print says.
"The majority of the people do make it on, and even if they come in third place, they get to go home with $1000 minus taxes to defray trip expenses," adds Melissa. "They don't pay for anything except for lunch, and when I asked for kosher food, right away they said, 'Sure, no problem!' They had it delivered."
Melissa, and all other Jeopardy! contestants, are allowed to say very little to the media – or anyone – about their upcoming show appearance. What she could share was logistics - like five shows are recorded in a day, so there is a cohort of contestants who come in each day.
"You get to meet some very interesting people, all of whom are nerds like you!" says Melissa with a chuckle. "It was actually very fun; I even met another history professor. It was a very mixed group of people, including a football coach from Alabama. Everyone was very supportive, cheering each other on. We spent the whole day together. It's like going to boot camp. You had to wake up very early in the morning to go to the studio, which is smaller than it looks. There is a live studio audience, which my husband was part of, but I didn't want to know where he was sitting because I didn't want to make any eye contact with him. I was glad he was there, but I was afraid I would start laughing if I saw him."
Everyone there was sworn to silence, until after the show is aired. In fact, contestants are not even allowed to tell people that they will be appearing on the show until they get the go-ahead, about 10 days to two weeks before it airs. Then the producers send you a photo of yourself with the Jeopardy! host that they want you to distribute, including on social media.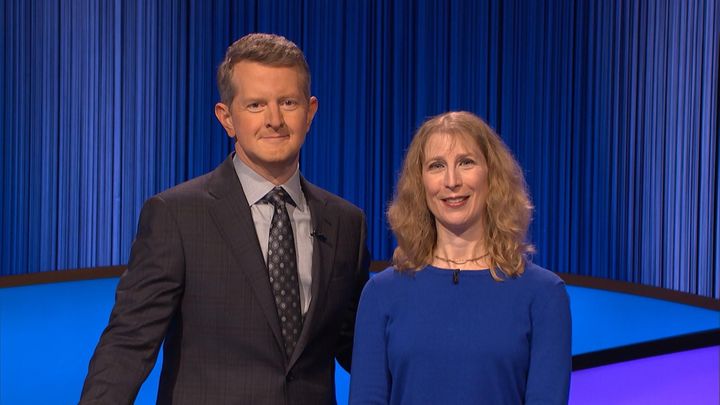 "It was a very nice experience," notes Melissa. "You don't have much to do with the host; mine was Ken Jennings. There's a lot of paperwork you need to fill out when they tell you that you are going to be on the show. Part of that is an interview sheet where you write down interesting stories about yourself. They have a whole bunch of prompts, such as if you have been anyplace interesting, and they ask which you want to go first with. So what the host asks you is not a total surprise; it's staged.
"It was a fun experience, and it was nice to be around people who value education, but it was exhausting and stressful," she adds. "I'm not used to performing with stage lights and cameras; it's not my usual kind of space, but that was probably true of everyone there."
Melissa chalks up her storehouse of knowledge to reading a lot; she always has. She concludes, "I've always had wonderful teachers at Bais Yaakov (including my mother, Ferne Klapper, for 11th grade English), in college, and in my graduate program, but I feel I was especially prepared because I read a lot. Reading really pays off; you can learn so much from reading all kinds of things. I'm glad I grew up in a home where everyone was reading all the time. Reading is very central to everything I have done in my life."