Keep Some of your Tzedakah in Baltimore! Agudah Scrip is a Win-Win!
Click here to purchase Agudah Scrip through TA today
As we are now in the Aseres Yemei Teshuva and in the midst of the Yamim Noraim, we can still hear the oft-quoted dictum reverberating in our ears:

ותשובה ותפילה וצדקה מעבירין את רֹע הגזירה
"Repentance, prayer and charity averts the severity of the decree"
As you know, at this time of year it is customary to increase charitable giving.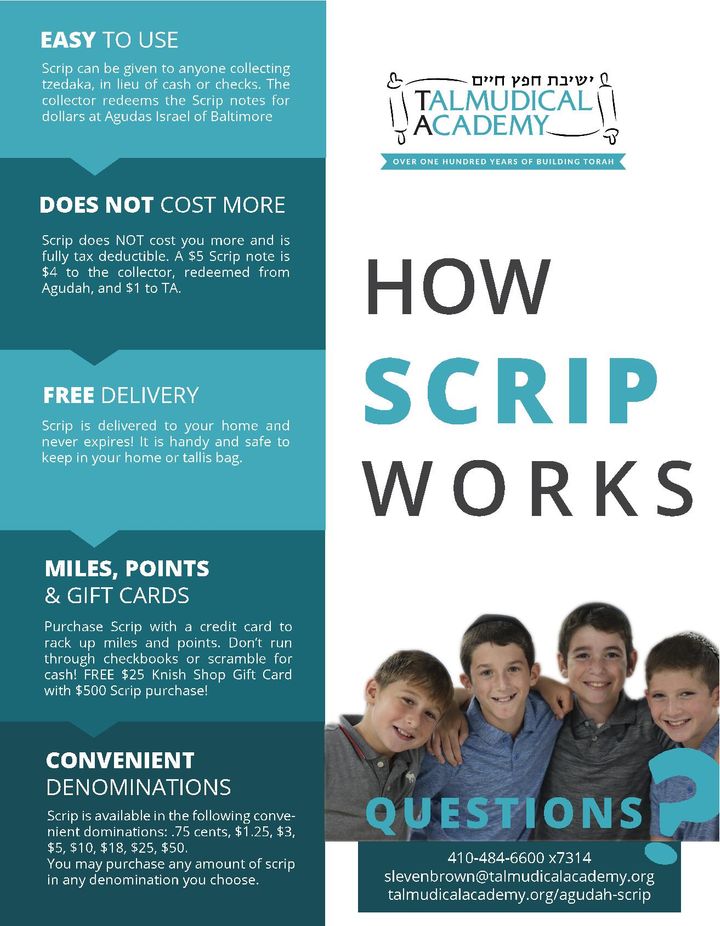 Click here to purchase Agudah Scrip through TA today
The Agudah Scrip program, which Talmudical Academy of Baltimore participates in, is by far the easiest way to manage your charitable giving. It is safe, convenient, and approved by the Va'ad HaRabbonim as the recommended method of keeping a portion of your tzedakah dollars in Baltimore.
Here's how it works:
You purchase Agudah Scrip that can be given to anyone collecting tzedakah in lieu of cash or checks. If you purchase Scrip through TA, the school receives 20% as a donation.

The collector redeems the Scrip notes for dollars at Agudath Israel of Baltimore.
Buying Agudah Scrip does not cost you more! For example, if you would usually give $5 cash to a collector, instead, you can give a $5 Scrip note. The collector redeems that $5 Scrip from Agudah, and receives $4 cash, as printed on the Scrip, while TA receives $1. The entire $5 donation is tax-deductible and you get a receipt upon request.
Agudah Scrip is conveniently available in the following denominations: 75 cents, $1.25, $3, $5, $10, $18, $25, $50. You may purchase any amount of Scrip in any denomination you choose.
Once you start using Scrip, you'll wonder how you ever managed without it!
Every Scrip purchase is fully tax-deductible, and Scrip notes never expire!

When purchased through TA, Scrip is

delivered to your home

(for orders of $100 and more) within just a few days

Scrip is always handy- keep it in your kitchen or in your tallis bag!

You won't run through checkbooks, or scramble to look for cash

By purchasing Scrip online with a credit card, you can rack up miles and points!

FREE $25 KNISH SHOP GIFT CERTIFICATE for every Scrip purchase through TA, of $500 or more
As a recent new Scrip participant shared, "It has absolutely changed my life! I love the convenience of it, as I can help the needy while helping TA at the same time. I can keep it with me and give tzedaka in Shul every morning. At home, I don't have to find a checkbook every time someone comes to my door. It's a no brainer!"
Best wishes for a Gmar Chasima Tova!