Baltimore, MD – March 30, 2020 – We've all heard what the adults around the globe have been saying – and watched the YouTube parodies they have been singing – about the Coronavirus. I thought it was about time that we check in on the kids in our community to hear their take on this whirlwind of unfolding events, and to see how they are managing. I began by asking 14-year-old Beth Tfiloh freshman, Michael Bitman.
"I really feel that it is kind of cool that we can learn from home," shared Michael. "I was reading that a lot of people in public school are not learning because the public schools cannot necessarily expect their students to have Wi-Fi. Therefore, they cannot connect to some of the programs that we use for online learning – like Microsoft Teams or Zoom."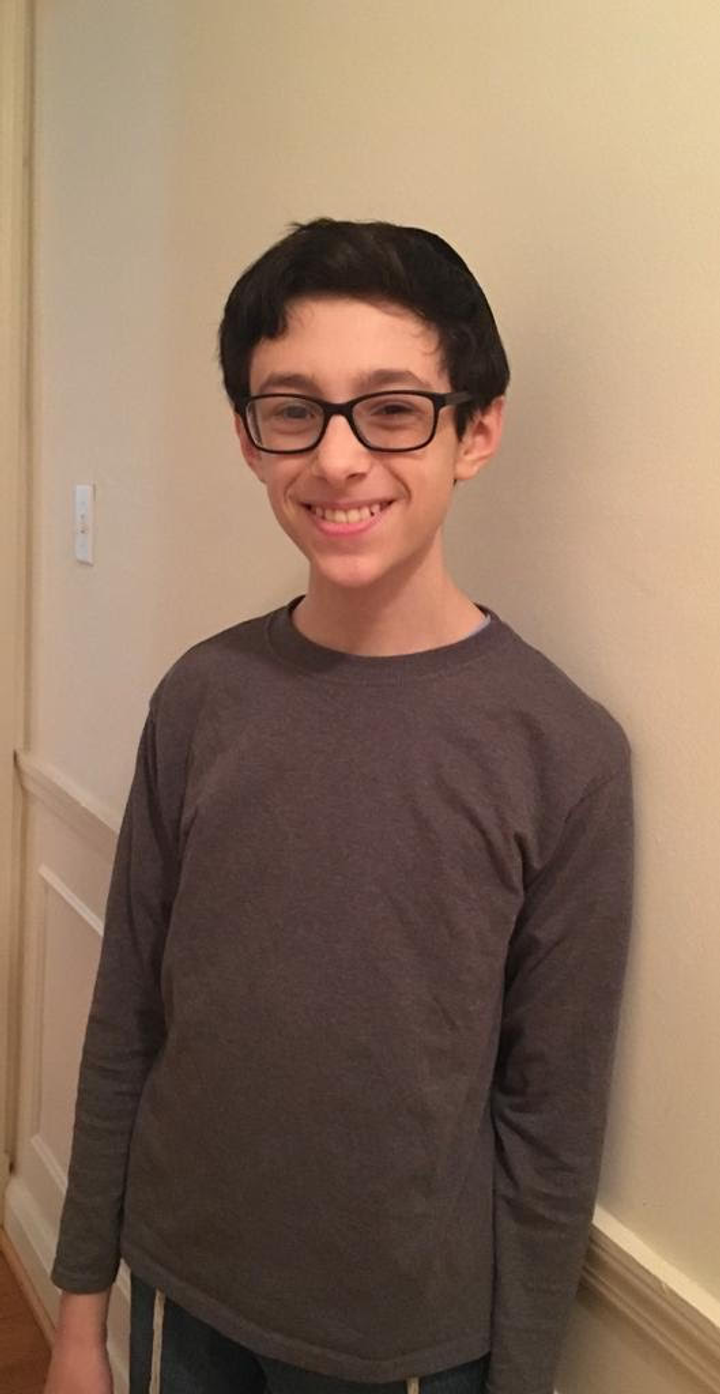 When I asked Michael if he was getting a lot of homework, he responded, "Absolutely! Probably, too much, but it's bearable and has a sense of reward. I can finally get to do stuff that I want to do that I would not have been able to do otherwise with my busy schedule – like talking more with my Grandma, like going on walks with her, talking to friends, learning…all that."
He did admit that although he feels he is getting more homework since Beth Tfiloh closed its doors, some of his fellow students disagree with him. He estimates that his homework takes him seven to eight hours a day.
"I have structured breaks throughout the day," mentions Michael, who is looking forward to returning to school. "I read the news a lot, because that is a very prevalent thing to do."
What the Feldmans Have to Say
Yaakov Feldman, a 10-year-old fourth-grade Talmudical Academy (T.A.) student also prefers to return to a brick-and-mortar classroom setting. Although he says he is getting more homework now – he estimates about 50 minutes, total- he finds it boring to be at home.
"I don't really like it because it is kind of like a disaster, going through the whole thing with the phone thing; you don't really get what's going on with the actual phone," explains Yaakov. "And, today, in limudei kodesh, we were doing Zoom, for the first time and the sound wasn't working and we didn't do any work."
Yaakov does feel that he now has more time for things like playing sports and going on a lot of family hikes in forests adjacent to nature centers. However, he feels, "It's going to be a disaster for Pesach; because we go to my grandparents' house for Pesach and I would rather do the seders there. We never did Pesach here before."
Yaakov's recently bar mitzvahed brother, Rafi, a seventh-grade T.A. student, shared his feelings about the actual virus. "It's not really scary for me, but I know it is for older people."
This is Rafi's typical daily schedule. "I wake up at 9 a.m. and daven; it feels weird. I'm not used to davening without a minyan. I call my rebbi from 11-11:30, then play. I do my homework from 9 p.m. to midnight, every night."
Rafi admitted that he would rather be back in school, too, since he misses being with all his friends and his rebbi. His sister, 8-year-old second-grade Bais Yaakov student, Rachel, shared, "I don't like it because I don't get to see my friends or teachers. I'm not doing so much work and it's boring. But, I do get to do activity books, get to go outside more, ride my bike, do clicks, and even get to have my nails done – which I can't do when I go to school – because I am in the house!"
The Purrks of Being Creative
Nechama Schwarz, a 10-year-old Bnos Yisroel student in fourth grade, opined, "I think people are trying to be super safe, but they are also being very nervous; I am not very nervous about it."
Nechama feels it is a little bit harder to learn at home because she doesn't have her teachers with her.
"My school sent us a booklet and I brought some books home with me. We have a hotline that we call in for Ivris and Parsha. When we call in, separately, we are asked a question that we have to answer. I have 30 minutes a day of homework, each, for limudei kodesh and limudei chol. It's easier homework, but it's more than what we usually get.
"It is boring having school at home," continues Nechama. "I can't see my friends, but I do have more time to write books. I am working on a children's book now about a cat. I also paint with watercolor pencils, and I am illustrating my book."
Bar Mitzvahs on Hold
Sruli Lerner's bar mitzvah, which is scheduled for the week after Pesach, is in a holding pattern, as are those of many of his friends in his seventh-grade T.A. class.
"It's annoying," says Sruli. "I was going to lain for Rosh Chodesh, which I started preparing for in October, and now it is probably not going to happen. Maybe in a month from now things will calm down and I will be able to have something then."
The silver lining for Sruli is taking classes over Zoom, which he prefers, especially since learning starts at 10:30 and he is spared getting up at 7:45. He also enjoys getting less homework and staying up later. He is also now finding the time to help out a bit with Pesach cleaning, too.
Penina Weissbrot, a nine-year-old Cheder Chabad third-grade student says, "I like not going to school because I get to go on the computer, but I don't like it because I don't get to see my friends."
Penina shared her now-typical daily schedule with me. "I go downstairs, eat breakfast and do my daily things that I do every day, like daven every morning. Then, I open up the computer and start with my videos. I do Chumash online and I am making a Haggadah. Sometimes we do Zoom, but not everyone is there. Since my mother has four kids -and three of them are girls; the baby is a boy – it's kind of hard to get to bed by seven o'clock, but we are in bed by eight o'clock."
I asked Penina if she is enjoying her copious amount of free time – now that she no longer goes to school – and if so why. She responded, "Yes, I do! Now, I have like 20 recesses and I get to eat whenever I want and I can paint my nails. I could also wear my hair down and I don't need to be late to school. I have time to be with my parents and spend time with them. But I don't think it should be like this forever, because I am going to miss my friends."
Regarding the virus, in general, Penina admits, "I keep reading in magazines, by mistake, about the virus and it scares me because they say, 'This amount of people got it', and, 'this amount of people died' and even more people were saved. Sometimes when I am scared at bedtime, I have a couple of chapter books by my bed that really calm me down because they make me forget about everything else. One of them is called: The Wonder of Becoming You: How a Jewish Girl Grows Up, and the other one is Helen Keller. Another thing I get to do, is read whenever I want. In school, I can read by recess, and I have three recesses, and there is one reading class, but I don't really get so much to read and I don't really learn so much from those, but the two books that I just told you about let me learn about a lot of stuff. One of them, the Helen Keller book, is about history, and I like learning how other people grew up and what they did. The other book, tells me about my life."
Binyomin Boehm is a 12-year-old sixth grader at Torah Institute (T.I.).; his rebbi is Rabbi Wallin. He remarked, "This whole thing is crazy! Out of the blue, school was cancelled. When I got home, my sister told me. That's where you get all the good information -from your sisters! It was a very exciting day."
Now that he has had a taste of homeschooling for a while, Binyomin is still happy to be learning at home. Partly, because he no longer has to set his alarm clock for 6:43 a.m. to be in time for his 6:57 a.m. school carpool.
"Now, I get to help out my mother more for Pesach and I do more extra learning for school. I also get to go out for a walk. I am happy being at home!"
Rena's Pros and Cons
Rena Saunders, an 11-year-old Bnos Yisroel student, shared, "This has been quite an experience! I feel like there are pros and cons about it. It's very hard to keep up with schoolwork, although I do have my parents to help me with it, but I find it very hard to concentrate in a house to do my work. I do get to stay up a little later and I can wake up a little bit later, also, which is nice."
An additional con, for Rena, is not being able to visit relatives in other states. One of the perks of structuring her own day, says Rena – who is an only child – is to do a lot of fun things with her mother. "We have laundry parties; we put on music and dance while doing the laundry. My mother also made up fun dances to do while studying and cleaning for Pesach, that make both of us laugh."
Facetiming friends, walking dogs, drawing, singing, listening to music, and teaching tricks to her new fish, are some of Rena's favorite pastimes that she gets to have more time for, now. In fact, in the picture below, Rena is seen walking Paula and Mark Siskind's dog, Ben, on March 30, before 8 p.m.
"At first, I didn't really think the virus was a big deal; I thought adults were over-reacting, and they definitely are," mentions Rena, "but, I noticed things were getting a little more intense when they closed up school and made rules about people not going out. I can't go to my friends' houses anymore, and I'm not really sure I should still be walking people's dogs. It's kind of nerve-wracking and scary because we are finding out more things about it every day."
Rena says she thinks her fish, which were purchased right before the outbreak, are really going to be confused when she finally goes back to school – they will have to get used to a whole new feeding schedule.
Being off her own schedule, Rena admits, makes her nervous, too. "The time I am supposed to go to school, I am sleeping…In some ways, I love to sleep in late, but I think it would be worth it to go back to school. I feel better when I am on a schedule, sometimes, and I wish I could go to school only because I miss my friends and seeing a teacher in front of a classroom – I am not so good at teaching myself. It is happening, but I'd rather be back in school."
The Frankels' Frank Take on Things
Fortunately, I was able to catch the entire Frankel family on a WhatsApp chat to find out their take on the current situation. I first spoke to 10-year-old fourth-grade Torah Institute student, Chaim Frankel, as he was holding his newborn baby brother who was looking up to him, literally!
"I am happy that there's no school!", says Chaim. "I'm not bored. I wake up usually at 9:30, I daven, then make my bed, brush my teeth and eat breakfast. Then, I usually play, then Pesach clean, eat lunch, and have a conference call with my rebbi, Rabbi Atlas. Then I usually read, play outside, then come inside at 4 p.m. for my Zoom Mishnayos class with Rabbi Ross over the computer, and then have a snack and play a board game. I don't have homework."
Chaim is so busy – as are his siblings — sticking meticulously to an activity schedule, I was fortunate they were able to find the time for this interview!
Chaya Frankel is a 14-year-old eighth-grader at Bais Yaakov. "It's [the Coronavirus] not great, obviously, but you have a lot more free time than you have when you are at school, so you can do a lot more things that you want to do. I like going on a trampoline, but when we have school, I can never really go on it because when I get home, I have to eat supper and do my schoolwork, as well as other things I have to do. I also had time now to build a night stand to put by my bed. We got it a month ago, but never had free time until now to put it together."
Their parents, Malka and Hillel Frankel, who made cameo appearances on the WhatsApp video chat, try to arrange exciting learning sessions for their children, to supplement their school learning.
"My mother filled out a survey to find out which subjects we were interested in, and she was hooked up with a marine biologist. It was very interesting; it was about animals in the ocean," says Chaya.
"I get a decent amount of work from six or seven teachers," continues Chaya. "It could be that I am getting more homework, but I have more time to spread it out rather than doing it all the same night. Also, we get to have open note tests for Chumash, and you get extra credit for them…I do not miss being at school, at all – not even if it means not being with my friends. You can Facetime or text your friends; it's not that hard to see them."
Chaya feels that school should be like this all the time, virus or no virus. Her mother corroborates this feeling.
"I don't mind; I like the relaxed atmosphere," interjects Malka. "I like not having to make lunches and rush the kids out for carpools in the morning. Everyone has their schedule and everyone has their list of things they need to get done every day, so that keeps everyone in check so they just don't sit around. For everything they do, they get points on their charts which translate into time of watching a cooking show together at night. That keeps everyone motivated. We are on a later schedule – we start later, around 9 a.m., and we end later."
Eight-year-old Eliyahu Frankel is in second grade at T.I. His rebbi, Rabbi Wiener, has an hour-long live conference call with his class, daily, at 9:10 a.m. His English teachers sent home a folder of homework; he paces himself by doing a little every day.
"I'm happy I get to stay home because now I have more time to play," says Eliyahu. "I need to finish my whole chart to get to watch Scooby-Doo on the computer."
Sarala Frankel, a 12-year-old student at Bais Yaakov, concludes, "I like it [having school at home] a lot. I like sleeping late, even until 9:30 if I want to, since I don't have to worry about making it in time for carpool. I also get to help out more with the baby and help cook for Pesach; I made meatballs. Things should always stay like this – but, without the virus!"
Acharon Acharon Chaviv
I would be remiss as a grandmother, if I didn't interview my own grandchildren, wouldn't I?
Tehila Pensak is an eight-year-old second-grader at Bais Yaakov. "It's much easier to learn when you can see the teacher in front of you. My teacher, Morah Waldbaum, sends a voice recording every day except Sunday, but you can't see her, you can only hear her voice. We get more homework while at home, and my reading group teacher reads from a chapter book for all the girls to listen to over the phone."
Tehila also keeps busy helping her almost-six-year-old brother, AJ, a kindergarten student at T.A., make his Haggadah. In addition, she now finds the time to ride her scooter and bike and blow bubbles outdoors, with her brothers. She admits to missing her friends and that the perfect combo would be to have in-school learning, part time, and at-home school, part time.
Even Tehila's three-year-old brother, Eli, who attends Ner Tamid Montessori Preschool, has Zoom circle time at 9:30 a.m., with Morah Ayala Kuhr and assistant, Ms. Stephanie, along with his other logged-in classmates. Lots of his classmates' siblings sit with them during circle time and participate, too! They do their morning davening routine, talk about Pesach and sing Pesach songs before Ms. Stephanie reads a book to everyone. In his free time, Eli keeps busy by doing projects, like stuffing his seder pillow.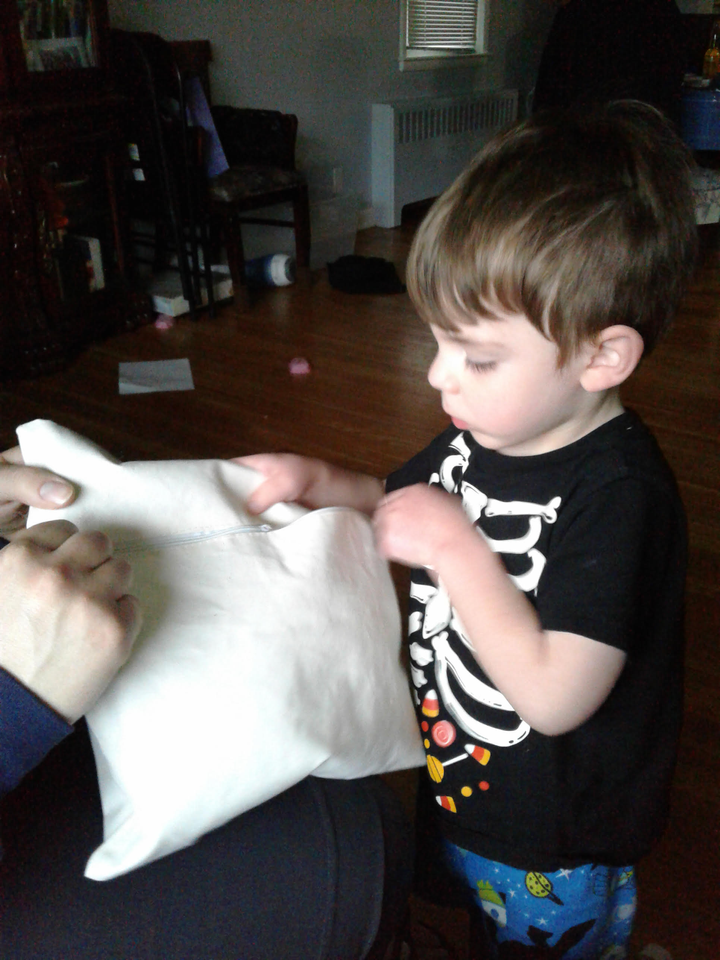 Eli had nothing much to say about the current situation, but when I asked his big brother, AJ, about it, he remarked, "I think it's kind of fun! I get to play every day and every night I get to stay up late; and, at night, after dinner, we play baseball catch."
To make sure AJ knew the social distancing rule, I asked him how far apart one has to stand from people. He answered, "I know it's six feet because all the grownups always say, 'I know it's so hard to stay six feet apart blah, blah, blah!'"
Before I move on to another son's family, I ask AJ if he can show me, on our video chat, his Haggadah he is working on. He asks me to wait while he goes to wash his hands.
"Are you washing your hands because of chometz or the virus? I ask.
He answers, "Because you cannot get it chometzdik for Pesach! "
"What is that beautiful picture you drew in your Haggadah?" I ask.
"This is a person that looks like an alien; he really isn't, but he looks like one," says AJ. "He has a blue face, blonde hair, and black eyes."
After a good laugh, I move on to video chat with Zev and Ayala Pensak's children. Shaya Pensak is a seven-year-old first-grader at Ohr Chadash. He was just finishing up his reading assignment, when I called.
"We are getting ready for a Book Tournament," Shaya reported. "Whichever book gets the most votes, wins."
Shaya has no preference for learning at home or in school. He says he is not sure why he doesn't miss being at school with his friends, he just knows he enjoys being at home with his family. I asked him what he is now doing in all his spare time.
"I like to watch videos to learn stuff, like the top ten dirtiest jobs in America," says Shaya, who is often joined by his little sister, Maya. "Also, we watched a video about how to make chocolate."
Shaya's older brother, Asher, a ten-year-old fourth-grader at Ohr Chadash, told me he enjoys his Zoom sessions with his rebbi, Rabbi Komisar, however, he notes a technical difficulty.
"With everyone working from home, there are a lot of devices using internet, which makes it a little bit slow."
Asher is torn between being schooled at home and returning to school. "I like school because I could see my friends, but I also like home because I can stay with my family."
Before we hung up, I asked Asher what he thought about our world predicament, and he replied, "That it should stop…I know that this is going to be in the history books – that's for sure!"