Baltimore, MD - Apr. 1, 2020 - For a long time, Tova Cohn knew that she wanted to go into a field where she could work with her hands, something which she really loves to do. It wasn't until three years ago, however, as a tenth grade Bais Yaakov of Baltimore High School student, that her aspirations began to crystallize. Tova's passion for entering the biomedical engineering field stems (pun intended!) from her Bais Yaakov STEM experience.
STEM is an acronym which stands for Science, Technology, Engineering, and Mathematics. According to the latest National Center for Education Statistics, young adults with bachelor's or higher degrees in the STEM fields tend to have more positive economic outcomes, such as higher median earnings, than do those with degrees in non-STEM fields.
Since a lot of the fields in the job market today require an understanding of STEM, it is to the credit of the New York-based organization, the Center for Initiatives in Jewish Education (CIJE), that the STEM program for high school students in Jewish schools with a unique dual curriculum was created. Kudos goes, as well, to Bais Yaakov for deciding to offer some STEM courses to its students three years ago.
The STEM field actually includes a far wider range of academic disciplines, including: Aerospace engineering, Astronomy, Biochemistry, Biology, Chemical engineering, Chemistry, Civil engineering, Computer science, Electrical engineering, Mathematics, Mechanical engineering, Physics, Psychology, and Statistics. Some of these subjects will offer a straightforward progression to particular careers; others will lead to a less obvious career, in fields such as in finance and construction.
"In the STEM class program, we learn about things like circuitry and coding and innovation," explains Tova. "At the end of each year, we have a convention in New York or New Jersey where STEM students from all the Jewish schools, through CIJE, present our projects to judges and awards are given out. Through that, I realized that engineering is really fascinating. I love building things, even with Lego – I find it very cool the way it all goes together. I really wanted to do mechanical engineering and I also really like biology. The medical field is super cool, but I don't like touching people. Being a doctor or nurse is not for me, so I figured if I could make the devices that could help people without having to touch them, that biomedical engineering would be for me."
Tova's STEM teacher, Mrs. Sarena Schwartz, elaborates, "We teach the students about electricity, sensors, and motors, and at the end of the year, they have a capstone where they go to a huge Innovation Day, where thousands of high school students from the Northeastern United States show off their projects and compete for prizes. It is really nice for the young women to see students from many different walks of life who are following the same curriculum, who they are competing against with their projects. It is really wonderful to see."
Mrs. Schwartz adds, "This is not Bais Yaakov's first recognition in the STEM field. In our first year with the CIJE program, we were finalists in the CIJE competition, CIJE Tank, a take-off on Shark Tank. The second year, Ora Attar and I started the Robotics Club, also part of CIJE, and we won First Place in the Robotics Meet. As far as I know, Tova is the first student who, on her own, won a scholarship and is really the only student who could – since we started it when she was in tenth grade. She was able to apply for the alliantgroup scholarship and win, using her knowledge of what she learned in class."
"I really, really enjoy STEM," continues Tova, whose group capstone convention project was a light, portable compressor device that circulates blood to prevent blood clots when someone sits for prolonged periods of time. "I applied for the STEM scholarship -not expecting that I would get it -thinking that it was worth a try. I thought a $10,000 scholarship would be an opportunity to get a head start on financial aid for college. I was shocked when, over Chol Hamoed Succos, I received the phone call from the alliantgroup notifying me of my award. It was very exciting. I felt very proud of myself."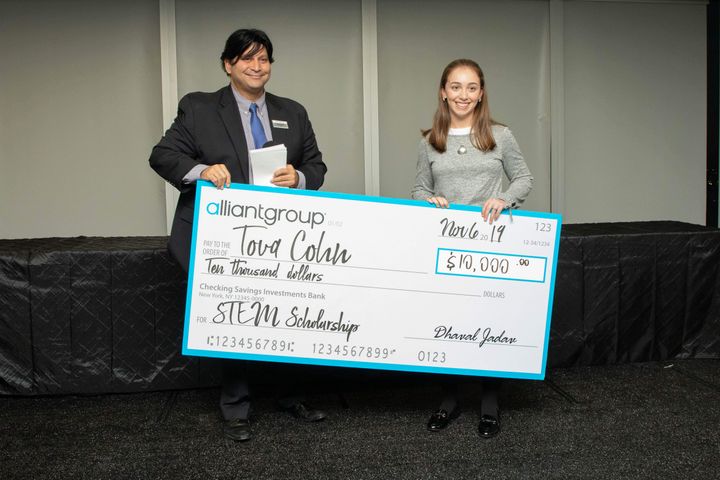 "I'm a firm believer that the success of America's future is directly tied to U.S. workers being involved with STEM fields, and that's why I'm so proud of alliantgroup's dedication to helping the next generation of STEM students through our Blue Heart Fund scholarships," remarks Casey Curry, Corporate Citizenship Director, alliantgroup. "Our country's next engineers, architects, doctors and meteorologists all have a simple first step on their journey: choosing the path of a STEM education.
"Tova is a prime example of the type of passionate, bright student alliantgroup loves to support in their STEM journey," continues Casey. "She has dedicated herself to STEM education by taking community college courses while still in high school, and dove head first into the world of STEM through her work on medical research and projects that could be the next breakthrough in blood clot technologies," Curry said. "My wish is to see more of the innovations that students like Tova are working on become a reality right here in the U.S., and a key way in doing that is helping them achieve their aspirations within STEM."
Although Tova hopes to attend either the University of Maryland-College Park or Stevenson University, she first plans on attending Bais Yaakov Seminar in Israel before cashing in on her scholarship.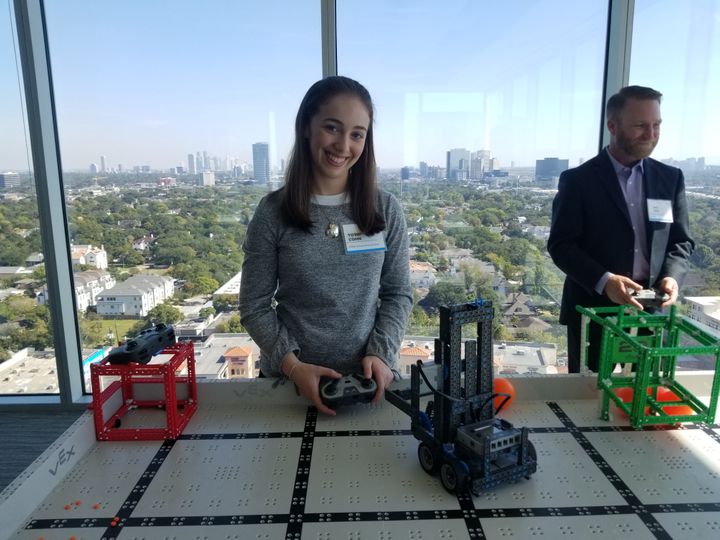 The STEM Award Backstory
Government and charitable initiatives have been launched by workplaces such as alliantgroup to increase the number of young men and women (women are at a shortage) pursuing STEM degrees who will work in STEM-related fields.
One could only apply for the alliantgroup's STEM scholarship if you were a child of someone who works for an accounting firm or were nominated by someone employed by an accounting firm. It was Shloime Grunhut, CPA, who is employed by Handwerger, Cardegna, Funkhouser & Lurman (HCFL) - a corporate partner of alliantgroup – who contacted Tova's Bais Yaakov High School STEM teacher, Sarena Schwartz (who happens to be his sister-in-law), and suggested that she pass along the scholarship application information to her students.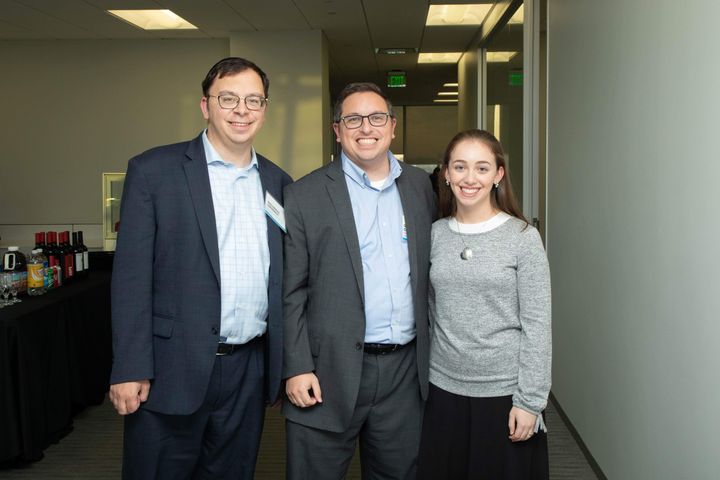 "My company does a lot of software engineering work for the government," notes Shloime. "There is a research and development tax credit which some of them would qualify for but it is highly technical. The only way to really ascertain if you qualify is if you have someone come in and study the work you perform. So, this company out of Houston, the alliantgroup, does this and helps you qualify for the credit. Obviously, because I am the CPA, they interface with me pretty closely to get everything squared away.
"I got a flyer from alliantgroup a couple of months ago, because STEM education in America is a passion of theirs," continues Shloime. It offers a number of scholarships each year for high school seniors who are applying to a four-year college in a STEM-related field. I got the flyer on a Wednesday and the deadline for submission was Monday. I quickly sent off the application to my sister-in-law, Sarena Schwartz, and she sent it out to her class. Only one student in her class, Tova Cohn, replied that she was interested. It was such a tight deadline, but Tova and her parents got all the necessary documentation together in time - including getting transcripts from Bais Yaakov and completing the scholarship essay."
On November 6, Tova and her father, Gobbie Cohn, were flown to Houston, where she was called up by the CEO during an alliantgroup seminar, one of 14 high school seniors from secular high schools around the country – including Alabama, Ohio, and Texas -- who aspire to entering a STEM field. Tova was one of nine female awardees; there were five male awardees.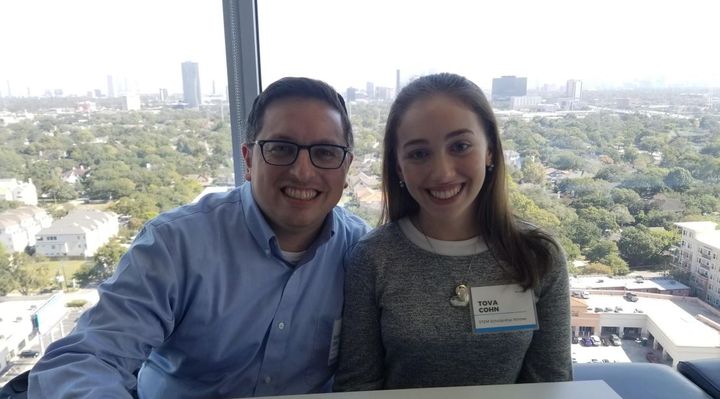 "My father and I were flown to Houston, all-expense paid, and made sure that we would be accommodated according to our religious standards," notes Tova. "We made them aware of things like the prohibition of men and women shaking hands and they were really understanding. I felt very accepted and happy that they understood it and were willing to help me with all that."
"The nicest part about it was that the alliantgroup runs a tax seminar in Houston for CPAs twice a year, and I was already planning to go," mentions Shloime. "The scholarship award ceremony took place there, so I got to be there for it, which was pretty exciting…I have to give credit to Bais Yaakov, because they really developed - through my sister-in-law, who is so passionate about it - a STEM program and I have to also credit Bais Yaakov for taking the initiative to adopt a curriculum which is very forward thinking."
Mrs. Schwartz adds, "It feels really good to know that these girls are learning about a whole new field. I think STEM helps them gain confidence in all parts of their life because the class is designed to encourage the students to seek out the answers themselves. It teaches them that if they don't know how to do something, that's okay; they can find the answers. And, it's okay if things don't work out the first 200 times – they just need to try something different. It feels really good to give these girls such important life skills."
Joey Saltzman, Maryland Program Manager, CIJE, concludes, "Tova has shown a strong interest in engineering. She has elected to take our CIJE high school engineering courses for three years in a row. The CIJE high school program uses the Arduino microcontroller platform as a medium for introducing students to computer programming, electrical engineering, mechanical engineering, and biomedical engineering. In 10th grade, Tova learned about engineering principles and worked on a team to develop a capstone project called "Swisher Swashers" which added electric windshield wipers to ordinary eyeglasses. Tova continued to study more engineering applications last year and her capstone team created "Aeroflow", an innovative device to improve blood circulation in people who are sitting for prolonged periods of time. This year, Tova is learning more about engineering, including how to develop smart devices that connect to apps and the Internet. She is also preparing for an AP exam in engineering. I am glad that we have been able to foster Tova's interest and further inspire her to pursue studying engineering. The hard work, dedication, and creativity Tova demonstrated in her work with CIJE came through with her being awarded the alliantgroup scholarship. I have enjoyed working with Tova; she is a bright and committed student. Tova has accomplished a lot in her three years with the CIJE program and I am looking forward to seeing what she achieves in the future!"
Gobbie and Shayna Cohns' deep sense of pride in their daughter's achievements is obvious. "We are so very proud of Tova! She has labored with consistent diligence and continues to do so even in the midst of the traditional season for senioritis. We are humbled by the fact that this alliantgroup scholarship has recognized her excellence. Tova is an exceptional young woman and we are so very proud of her."