Baltimore, MD - June 12, 2018 - A personal life changing experience- before and after.

The Before
It's Sunday, April 22nd 2018, the sun is shining, the birds are chirping, and it seems like a regular ordinary day here in Baltimore.
The truth is, today is a special day. Noct because it's two months to my wedding anniversary, which marks 21 amazing years celebrating our beautiful family, rather because of something very different.
G-d willing in exactly 30 days I will be donating my kidney to a complete stranger.
This person needs it more than I do, and it feels like I am returning a lost object to its owner. Of course, there will be discomfort, fatigue, and pain, but knowing that I am saving a life cannot compare to the recovery I will go through.
The great Rabbis tell us that 30 days before a holiday, one should begin to prepare. That being said, I will try to begin my preparation of what I call Kidney day which is in one month, the day after Shavuos - the holiday commemorating the giving of the Torah which teaches us to give to others!!
Throughout this article, whose time frame will cover approximately the next two months - before and after the surgery - I plan on talking about the experience and its important life values. This experience has taught me a lot, and here I share with you that which I have learned.
How did this happen? Why am I doing this? How did I make this decision? To be honest, it happened very quickly. The Baltimore community held an evening of inspiration which was organized by Rabbi Pinchos Rabinowitz, Executive Director of Bikur Cholim of Baltimore, together with very dedicated committee members, who brought in Renewal, an organization which matches kidney donor to recipient and helps with the process from beginning to end. The event was held at our shul, Bnai Jacob Sharei Zion, and we were privileged to attend.
My wife and I sat in the audience and were blown away. At the time, there were three people in Baltimore who were in desperate need of a kidney. We each listened and without hesitation signed up to see if we could be a match.
After that evening we didn't hear from Renewal, nor did we speak about what would happen if we were called. We basically put it in the past and went on with our everyday lives.
Two months later everything changed. As I write this, 30 days before the surgery, I can't even fathom how much!
I was in my office and the phone rang, I didn't recognize the number but picked up the phone nevertheless. The woman on the phone explained that she was calling from Renewal and asked if I would be willing to come in for a full day of testing to see if I could be a match. She said that it looks like I can save a life and wanted to know if I was up for it.
My head started spinning, I remember feeling overwhelmed, nervous, and excited all at the same time.
I replied, "I am not saying no but let me check with my wife." After 21 years, if there is one thing that I have learned, it is to always check with my wife.
To make a long story short, my wife who is the backbone of our family has supported me, encouraged me, and made this all possible instantly said, "go for it; you can and should do this." And that was the end of it. I called Renewal and the journey had begun.
The day of testing and evaluation was intense, but we were greeted by a member of Renewal who brought us food and took great care of us.
The hospital we were assigned to was Cornell in NYC. Everyone there was super nice and friendly which made the day go by pretty quickly. I got to meet doctors, nurses, and, of course, the hospital coordinator who has been absolutely amazing throughout this process. Between Cornel and Renewal, each coordinator could not have been more helpful. Thank you Aliza from Cornel, and Irit from Renewal. Sorry if I am driving you crazy!
As of today, I do not know who my recipient will be, but I do know that I am doing the right thing, and will be giving the gift of life to someone and their family.
While going through the process of giving a kidney, it is comforting to have support from family and friends. The people who I have spoken to have been extremely helpful. There is tremendous research on the web, articles and books that one can read, but speaking to people who have gone through the surgery are by far the most inspiring and helpful.
Those of you who are reading this, please try to get involved. If even one person decides to give his or her kidney because of this, it will be special beyond comprehension.
On the day of evaluation, I recall being asked by one of the social workers why I am doing this. All I was able to come up with was, I felt like being in an ambulance getting a call to save a life and could not say no. I'm sure as we get closer to the big day I will be nervous, but there is no question that this is meant to be!
Back in Baltimore, there was blood work and other tests to be done. I have never been a fan of needles, nor do I react well to pain, but knowing that I am potentially saving a life made each visit a piece of cake.
My brothers reacted differently, each one in their own style.
Suchi said, "are you nuts"?
Yisrael proclaimed, "wow - that is amazing"!
Moishe went on to give me blessings, and Elchonon screamed, "what if I would ever need it?"
My brothers are the best, thanks guys!
My parents took the news really well and were proud of me. In fact, there is no question that growing up in a home filled with chessed and giving to others has made this decision even easier.
My in-laws, too, have shown us the path of kindness and caring. Thank you for all that you do, and for supporting us through this.
To my brother and sisters-in-law, you have always been there for us; may we always celebrate in joyous times.
To all uncles, aunts, cousins, nieces and nephews: we are proud to be related to you, thank you! The reason I bring this up is because family is important and very helpful while one goes through a process like this.
I didn't tell friends and neighbors at first but sharing the news with my coworkers also helped me in the process.
Each person cheered me on. Peretz Wertenteil, an old friend and Chairman of the Board of TA together with Rabbi Yehudah Lefkowitz did not even think twice about not paying me for the missed time. This in itself was wonderful news because I did joke about selling the kidney to help pay for some bills.
While all of this was going on, our daughter Avigayil was preparing for her Bat Mitzvah. Together with my wife she decided to raise money for Renewal in honor of her big day, and very quickly (thank you Rabbi Elchonon Ciment for the video) she became a fundraising sensation. To this day, she is $108 short of $10,000.
Thank you to all of our friends and family from near and far who have pitched in and raised money for this incredible organization.
While many gave generously, Mr. Erich Leach went out of his way, as he always does, to make sure that the goal would be reached.
(Yes! Of course, you can all have a part in saving someone's life by adding to my daughter Avigayil's Bat-Mitzvah campaign to help, just click here. Watch her short video message, below.)
There are still a few special people I must acknowledge and thank.
Thank you, Rabbi Moshe Hauer, for encouraging me to do this. You are a role model for all of us and we cherish you as our Rabbi.
Rabbi Menachem Goldberger - By example you show us how to care and love another. Your advice and friendly personality has been an inspiration.
Rabbi Zvi Teichman - you are a Prince, a pal, and a leader to all. G-D gave you a gift, you simply know how to build people. You are an architect of the soul and I thank you for our friendship.
Rabbi Yaakov Schwartz - my partner in crime.Thanks for supporting me and for holding up the fort while I will be recovering. I could not have done this without you. Rabbi Schwartz and I are administrators in Talmudical Academy of Baltimore. Our Middle School students always make us proud, and we love our jobs. Everyone at TA has been incredibly supportive. Thanks for always being there!
Rabbi David Finkelstein - not only are you my older brother, you too have given a kidney and have been there from day one. You devote your life to giving to others and I am happy to be part of the team.
Speaking of giving kidneys, thank you Avraham Eliezer Friedman, Yossi Burstyn, Ari Langer, Mrs. Suzanne Lasson, Ronnie Pachino, Abe Greenberg, Reb Aaron Feder from Renewal, Mrs. Friedman, and Stewart Cohen. You continue to give me and all of us strength every day!
There is no question that when one goes through something they are in a special position of assistance. My father once explained that it is for this reason Yosef and Binyamin cried in Mitzrayim. Rashi explains that Yosef and Binyamin were crying for the Mishkan and Beis Hamikdash that would one day be destroyed in their portion of Eretz Yisrael: the Mishkan in Yosef's portion and the first and second Beis Hamikdash in Binyamin's portion.


He asked, why weren't the other brothers crying? They were present in the room, they too deeply cared about the destruction?
My father explained that Yosef was able to cry for Binyamin and Binyamin was able to cry for Yosef because each understood the pain of the other. Thank you to all previous and future donors - you are not only giving life to your recipient, you are encouraging others to do the same for theirs!
On the recipient end, my friend Josh Zipp has been insightful, honest, and caring.
Nine months ago I sang at Josh's wedding, little did we both know that within the year, he would receive a kidney and I would give one.
In addition, I must mention an individual who has literally helped me from the beginning of this process, Rabbi Yossi Ryback.
Thank you, Reb Yossi, for your words of wisdom, encouragement, and exceptional guidance. Meeting you has made this very meaningful.
Shoresh is a fantastic Kiruv organization based out of Frederick, Maryland. I have been blessed to be part of the Shoresh family for 13 years. To all our Shoresh family and friends - May the show go on!
To the doctors and nurses, yes you have more patience than a Principal. I can't wait to meet all of you and I ask for forgiveness in advance in case I am one of those patents you all talk about during your lunch break.
Our dear children, Penina, Moshe, Avi, and Avigayil, have been exceptionally supportive. As a parent I could not be more proud. Each of you shine and light up our world!
Of course, the one person who has put up with me more than anyone is my wife Shanni.
You have made every day count and there are no words to describe my appreciation for you. You manage to work, cook, run our house, be there for everyone, and never complain. As Rabbi Teichman once said: "Eishes Chayil Mi Yimtzah? Yakov Matzah!"
It is my hope and prayer that we continue to see tremendous joy from our children and family in health happiness till 120.
To my special recipient, I am not sure if I will ever meet you, but I wish you a life of happiness, health, and many more enjoyed years complete with singing and dancing!
Unfortunately, my father-in-law passed away 13 years ago. I often wonder how he would react to the news of me giving the kidney. There is no question that he would throw in some jokes and make us all laugh! That's what he did and who he was. Throughout his life, even during his illness, he managed to make people smile. Therefore it is to dad - my father-in-law of blessed memory, to who I dedicate this article. He was a man who stood for kindness, helping people, and giving to others.
Lastly, thank you G-D for giving me two kidneys. We may never know why, but we have definitely figured out a way to help those in need.
May we all make You proud!
The After
Wow, as I write this I am on the couch in my living room trying to replay all the special moments over the last 8 days. There are moments in one's life that will always be remembered. Standing under your chuppah, welcoming your child to the world, marrying off your children, completing Daf Yomi, etc...
Well, I am going to add meeting my recipient to the list.
Before we get there, let me back up a bit.
My surgery was scheduled for Tuesday, May 22nd. We arrived in NY for the Pre-op and spent Shavuos with family. This was special and it allowed me to take my mind off of the surgery.
They begin preparing you 24-hours prior to the operation. This meant no eating and only drinking clear liquids. The night before, I was a bit nervous, but the next morning we found an early Shacharis and were off to the hospital.
Meeting the doctor before the surgery was helpful. It was nice seeing the face of the person who was going to be performing the surgery. There is a sense of trust you feel and all questions were allowed to be asked.
Of course the Renewal team was at the hospital as well. I cannot say enough about this special organization. From the moment this entire journey began they did not stop reaching out to me. Now that it was actually happening, I met Dovid Schischa, Menachem Friedman, Reb Aaron Feder, R' Josh Strum, and Mendy Reiner. The one person who I must specifically thank is Reb Menachem Steimetz. You are a gem and a real Tzadik! May you and your team continue to save lives and may Hashem bentch you with the strength to inspire the world till 120!
Of course, Aliza, the hospital coordinator, came to visit prior to the surgery as well.
Aliza's honesty and patience is beyond comprehension. Thanks Aliza!
Even though Irit Lang from Renewal was away during the surgery, she continues to be present through her amazing texts. Irit was the very first person I spoke to and she made this possible every step of the way. Thanks Irit!
The walk to the operating table was slow. I remember trying to take everything in. I didn't recognize this part if the hospital and of course was curious how the anesthesia would work.
The room was cold, the table was small and there were doctors everywhere. I remember asking the nurse who gave me the IV how long it would take to fall asleep and the next thing I remember is waking up. Literally that was it. I now have only one kidney and a life was saved. Talk about a good sleep!!!
I wish I could recall the moment of waking up. Rabbi Josh Strum was there, my wife was there, but I can tell you, I was not there, at least not in the conscious state of mind.
It felt like the end of a Purim Seudah and I remember asking for a Dvar Torah.
After that waking up episode, recovery begins. My wife and I were moved to our room and pain meds became a close friend.
I remember asking for them because when your body wakes up there can be discomfort.
The first night was a bit challenging because I wasn't used to the gas pain. When they perform laparoscopic surgery they pump gas into your body to help them see clearly.
Some of this gas stays in your body afterwards. The best way to heal is to walk, walk, and walk again. With Shanni's help that's exactly what we did and the more we did the pain began to decrease.
The stay in the hospital went by quickly.
But, the best part was before we left when we had the opportunity to meet the recipient.
This was by far a life changing moment in our lives and the special bond between us has just only begun.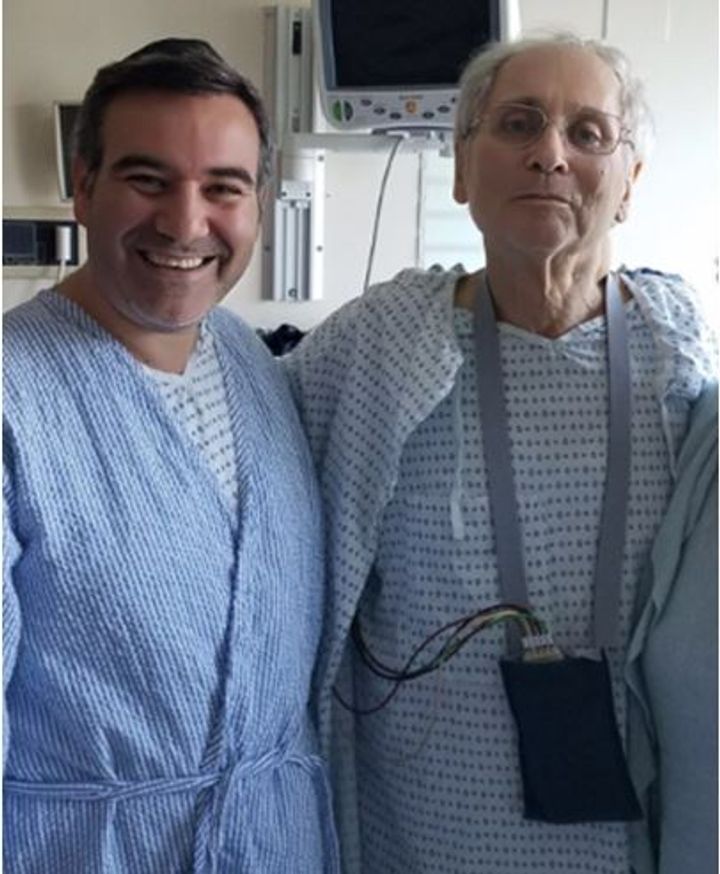 Arnold Feinblatt is a retired History teacher who was experiencing kidney failure. He, and his wife Arlene, have two wonderful children and three grandchildren. The moment Shanni and Arlene met was during the surgery. They just cried and cried tears of pure joy. Shanni ended up overhearing Arlene talking about her husband receiving a kidney and introduced herself. She is not able to put words into that moment.
I did think about hiring Arnold to teach for us at TA, but, of course, would never do that to my kidney!!
The Feinblatt's are like their name: fine people. They are simple and modest. Arlene is a psychologist and has worked under Dr. Sarno in New York for 40 years.
They both work with people and help individuals with life challenges. I cannot tell you how many of Arnold's students he is in touch with, it is extremely impressive. We went to their apartment in Manhattan before we headed back to Baltimore. These moments were moving and special.
The days of recovery were in Brooklyn, NY. Being from out of state, they wanted to keep us near the hospital for a few days.
I must thank my amazing family for visiting us and assisting with everything possible.
My parents and my brothers were constantly visiting us. Our children joined us for Shabbos, too! Cousin Yossi came to visit and was told in advance not to make me laugh too much! I must thank a very dear and special person- Tanteh B! Our aunt Bruchie Twersky is selfless and caring and has managed to be there for us. Bruchie, I wish I knew how to say thank you but you know how much we appreciate your help and guidance, at least I hope you do.
Back in Baltimore people are calling and coming to visit. It's great to be home and I am actually looking forward to getting back to normal life in the near future. The highlight of the way home was being in contact with the amazing Bella Herman who reached out to us. Bella received a kidney last year and is an inspiration.
Bella- you rock the house!!
I hope this article will create awareness for others and be helpful to possible future donors. Please contact Renewal, you will quickly see what I mean. It's not for everyone but for those of you who can do this, get involved and save a life.
L'Chaim,
Yakov Majeski

Postscript: 15 minutes before Shabbos, the phone rang in our house. I didn't recognize the name at first, then in an accent the man explained who he was. Moishe Sandler from Mexico was calling to see how I was feeling. Moishe traveled to NY for a special surgery and was my walking buddy in the hospital. I will always have the image of Moishe davening with his Tefilin in his hospital room. He explained that I gave him ko'ach while he was there, and he wanted to see how I was feeling. I couldn't get over it. Not only did this man who was recovering remember my name, he tracked me down and called my cell to check up on me! He also gave me the great news that b'H his surgery was successful. Believe it or not, we too plan to stay in touch. Mi K'amcha Yisrael.