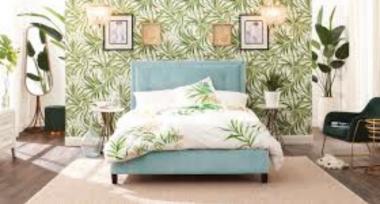 Bedroom Set - Like New!
Beautiful & unique, ivory colored solid wood set.
This set was used by my daughter for a few months before she moved out of state to a furnished apartment. Everything was purchased new ($2100).
Set includes:
Long, VERY heavy dresser with a sliding door that covers the drawers. Lots of storage space! With the black metal accents it has a kind of medieval look. Very unique looking!

Nightstand with drawers. Has 2 USB connections built in on rear top (powered by AC plug shown)!

Queen size bed - memory foam mattress barely used in mint condition with box spring.
Bed frame has a light blue microfiber covered, large headboard & footboard as well as blue sideboards. Short wooden legs are attached to the sideboards. Comes with 6 wood slats and all hardware.

The mattress was wrapped by professional movers & only used for a month. The green plastic wrap on the furniture was also done by professionals.
The picture of the assembled bed is a stock photo just to show what it looks like. It's not the actual bedroom set.

There are a few very small dings on the wood. Barely noticeable & insignificant.

Bed is disassembled and ready to go!
Again, the dresser is VERY heavy. It is in our living room because even the movers couldn't get it upstairs due to a winding staircase. I suggest at least 2 strong people to move it. (The other pieces are not as heavy as the dresser.) A pickup truck should be fine.

The mattress is in a SEALED bag in a closed room, so there are no issues with it.

Finally, should you decide to take it, I will require a $100 NON-REFUNDABLE cash deposit to hold it for pick up if you don't want to take it with you. Of course, this will be applied to the total.

You will LOVE this set! It is a neutral color to match most any decor!

I am available all day, every day.

More pictures available.

I will accept cash or PayPal.
Price: $1000.00
For More Information, please contact Mike at 4102057484 or Lvmym8@comcast.net